I grabbed all of J.L. Murray's Niki Slobodian series off of the Amazon free list over the last year or so.
Between the Devil and the Deep Blue Sea
The Devil is a Gentleman
Before the Devil Knows You're Dead
The Devil Was an Angel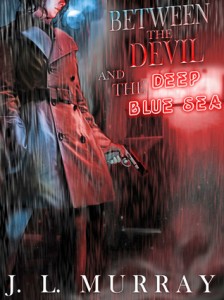 Description from Goodreads:
Niki Slobodian sees things – things that aren't supposed to be there. Labeled an Abnormal by New Government, her name is tacked onto the Registry, which seems to be getting longer these days. Now she can't work or she'll end up the same place as her father: in prison. But with no money coming in, Niki's getting desperate. 
So when a mysterious client offers to get her off the Registry in exchange for taking his case, Niki jumps at the chance. All she has to do is round up a homicidal Dark that's escaped from Hell and is cruising around the city in borrowed bodies. The murders are piling up, with Niki's notorious father somehow involved, and Niki's running out of time. And it seems the Dark isn't the only thing that escaped…
Review: 
I really quite enjoyed this book. I found Niki to be a strong, quick-witted heroine. Her sidekicks were useful and there was a surprising amount of humour. It all came together in an interesting paranormal action/adventure mystery with excellent writing and flawless editing. There did seem to be a lot of history between some of the characters that made me wonder if I was really reading the first book, but I caught up soon enough.
My only real complaint, two-fold as it is, was that the book felt very short. Amazon lists it at 160 pages, but I started it after dinner and was in bed before 11. In that time, I also bathed the kiddies and sent them off to dreamland. So even if it there is an physical page count of 160 somewhere, I bet it's double spaced.
Also contributing to this perception of brevity was the way challenges were overcome very, very easily. If seemed like Niki and her crew waltzed in, said "be gone" and vanquished the big-bads effortlessly. Of course, it wasn't that simple, but it felt like it was. She managed to solve two mysteries and save the day twice in the 160 pages available. That didn't leave a lot for buildup, tension, or elaborate planning.
Yes, it all felt too easy but that really was made up for by the humour and engaging characters. I can't wait to read The Devil is a Gentleman.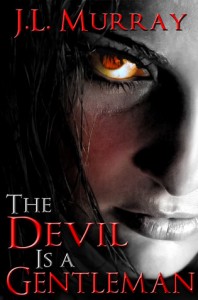 Description from Goodreads: 
Where Niki goes, death is never far behind. 
Everyone Niki knows hates Congressman Frank Bradley. He is the father of New Government, after all. He started the Registry, and the world adopted it. Bradley is the man who separated Abnormals and Normals, and made it a crime for Abbies to exist.
So when Bradley shows up at Niki's door bearing a terrible secret, then promptly disappears, she feels compelled to dig deeper. But the more Niki uncovers, the more danger she is in. A mysterious organization is out for her blood – literally – and her father's criminal past may not be as self-serving as she thought. There is also the matter of Niki's inscrutable employer Sam and the secret of his identity. With help from her partner Bobby Gage, Niki finds out just how little she knew about her family, and the truth of who she really is.
Review:
I'd call this another hit. I continue to enjoy Niki and Bobby's wit and the mysteries Murray sets up for us. I also really started to feel the influence of, or similarities to Kim Harrison's The Hollows series or Laurell K. Hamilton's Anita Blake Vampire Hunter (before the plots devolved into cheap erotica). It has a similar gun toting, strong heroine with a tendency to gather followers, fans and abilities as the series progress.
Like the first, this book also felt short. It also introduced some interesting side characters, that seemed to have just been dropped unceremoniously and it ended on a doozy of a cliffhanger, which I hate, but the writing was just as crisp and well edited as in the first. I'm looking forward to book 3, Before the Devil Knows You're Dead.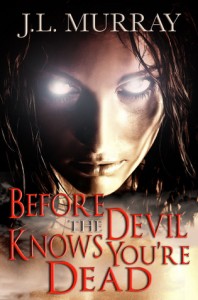 Description from Goodreads:
The worlds are out of balance. The Creator is missing. And the war between Heaven and Hell has begun.
Niki Slobodian came back, but there were side effect. She is filled with a strange power no one seems to be able to explain. Not even Sam. She is also plagued with strange visions whenever she touches anyone. This does nothing but complicate the fact that she may be the reason for the war raging in the streets of her own city. A war that could mean the end of humanity. 
Niki has always done whatever she had to for the people she loves, but this time is different. With carnage escalating and the people she cares for in danger, Niki and Sam must work together to save what is left of humanity. And with a psychotic archangel trying to assume to post of the Creator, and one slim chance to right the balance, the odds are against them.
Nothing is ever easy for a Slobodian. Not even stopping a war that could unmake the world.
Review:
I'm still enjoying this series, but it's also faltering in much the same way as many other such series. There seems to come a time when the main character reaches a point where she goes from being an exceptionally powerful or talented whatever, to becoming the most powerful. It becomes unbelievable after a while and I think Niki reached that point in this book. Perhaps it will be pulled back a bit in the next one. I hope so. Because if she remains so all-powerful, what challenge can there really be? I'm holding off on my judgment on this until I finish the next book.
Some major Biblical characters are offed in this book. I had a hard time wrapping my mind around that one…and I'm not even religious. But it's difficult to fathom using preexisting myths and then ignoring or changing large parts of them in order to fit the plot. It's jarring. Be that as it may, Niki again proved herself to be a resilient woman of stellar moral fibre and imperturbable determination.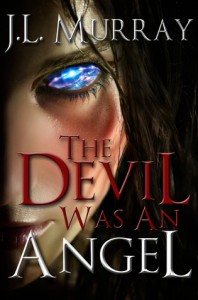 Description from Goodreads:
Niki Slobodian knows loss. She knows tragedy. But she has never known this kind of pain. After the war the Archangel Michael waged on her city, Niki is dealing with the loss of her loved ones. And the haunting suspicion that everything was her fault. As well as her new duty to help all the lost souls cross over.
But when Niki's only living friend, Bobby Gage, comes up missing, she has to take action. She enlists the help of Lucifer and together they learn that Bobby has been tracking Kane, the man who murdered his family, and is now killing again, leaving a trail of mutilated corpses all across the globe. And with the power to disappear unnoticed, it seems an impossible feat to find him and stop him.
But Niki is familiar with the impossible. And she would do anything to help her only living friend. Anything.
Review:
I'd say this was a great end to the series, but I get the distinct impression that it isn't actually the end. Rather, The Devil was an Angel is simply the most recent book published in the series. I'd certainly be interested in reading more if Ms. Murray decides to write them, but I'd be disappointed if it turned into one of those series that never actually concludes. I find that so unsatisfying.
I was plenty satisfied with this book, however. Niki continued learning about herself and her abilities. She grew a lot as a character, especially around the matter of acceptance. Lucifer was an interesting incarnation of himself. I really felt bad for poor Sam though, despite all his misdeeds and the first half of the book is almost devastatingly sad.
There is quite a bit more gore in this book than the previous ones. I'm not particularly bothered by this, but some might be. But Ms. Murray's writing remained exceptional 'till the end. Thumbs up.