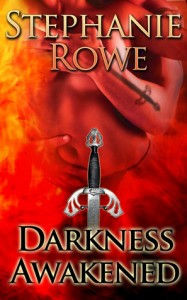 I grabbed Stephanie Rowe's PNR novel, Darkness Awakened (Order of the Blade #1), from the Amazon free list. As I write this I notice that it happens to be free again too.
Description from Goodreads: 
The Calydons are a race of ancient immortals cursed with a dark side. Each Calydon is destined to meet his soul mate, to be so drawn to her that he is unable to resist bonding with her through the rituals of his race… 
…but their destiny is to destroy each other and all they care about the moment their bond is complete. 
Quinn Masters will stop at nothing to rescue his rogue teammate. To save his blood brother and ensure his brand of justice triumphs, Quinn will break every rule of his kind and partner with the sensuous, courageous woman destined to be his ultimate destruction. 
Haunted by a brutal past, Illusionist Grace Matthews will risk everything to save her kidnapped sister, including putting her life in the sinfully capable hands of an immortal warrior whose ravaging kisses and intense passion propel her ruthlessly toward a fateful destiny she can't afford to believe in.
Review:
In some ways this book is just like any other Paranormal Romance of its ilk. The Calydons are a group of hot as hell, rough and tumble defenders of the innocent, just like JR Ward's Black Dagger Brotherhood, Elisabeth Naughton's Eternal Guardians, or Zoe Forward's Scimitar Magi. And like these other PNRs the Calydon's run into their soulmate (insta-love anyone?), the one person who they simply can't resist. Don't we all love these stories? That's why we read PNR, right?
What the Order of the Blade series is, that the others aren't, is ALMOST a parody of the genre. Like the Brotherhood or Guardians, meeting one's soulmate throws one hell of a wrench in the Order members' works, but unlike them this fact is sitting forward and centre as part of the plot. The Maji meet their soulmate and still go about their mission, the Calydons exist and are the hard-asses they are because of their need to avoid those same soul mates. They and the men who love them are who they hunt instead of demons, vampires or the eternal dead. (At least in this first one.)
It is so central to the plot that it enables the characters themselves to acknowledge it and joke about it. I liked that. It made for some really funny moments, quotes like this one: "You know, you're hot and you've got that badass manly man thing going and I'm crazily attracted to you, but honestly, I suspect you're going to be a little too bossy for my tastes. Thanks for the offer on the whole love-me-die-for-me thing, but I'll pass." Or how about this one, "I'm an Order member. We're specifically chosen because we're so damned trustworthy. We're like Labradors." Ha, I laughed at that one.
Now, by the same token the whole loyal trustworthy thing was beaten into the ground a little bit. At 15% through the book I thought, 'oh that's romantic.' At 90% through the book, when Quinn and Grace were still harping on about how much they trust one another and would be there for each other always, I thought 'oh God, I get it already! Move on.' I loved that Quinn was the type of man he was and that loyalty was a big thing for him. It was what Grace needed most too. I just got a little tired of being told about it.
The book had enough of a plot to keep the pace moving and an interesting assortment of side characters, though I wish I'd gotten to know them a bit more. I had a little bit of trouble with the whole Illusionist thing. I understood how the mind could be tricked into believing in an injury, but how was clothing convinced to tear? It has no consciousness. Grace's illusions felt more like actual physical manifestations than illusions. Really this is a small point, maybe even semantics. I enjoyed the book enough to buy the second one, Darkness Seduced.