I borrowed audio versions of New Witch on the Block and Jealousy's a Witch (Midlife in Mosswood #1 & 2), by Louisa West through Hoopla.
---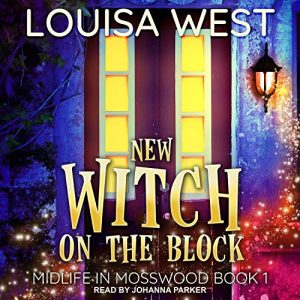 She thought she was running away from her past, not catching up with it.
Rosemary Bell just wants to live a quiet, happy life and raise her daughter as far away from her toxic ex-husband as she can get. But when they move into a decrepit cottage in the woods of Mosswood, Georgia, Rosie realises her life will never be simple.
A gang of meddling neighborhood do-gooders want to run her out of town. The vicious laundromat machines keep eating her spare change. Not to mention her buff Irish stalker who insists that he's a Witch King and that it's her royal destiny to be his Queen.
And to top it all off, strange things keep happening around Rosie when she least expects it…
She could deal with it all, but her ex won't rest until he tracks her down. When her ability to protect her daughter is threatened, Rosie shows them all that nobody messes with the new witch on the block.

I generally liked this. I appreciated a heroine who had made mistakes because of youth and inexperience, but had grown and gotten herself out of a difficult situation. I like that the love interest is sexy to her, but isn't described as uber handsome.
The plot is fairly simple and it takes a while for the magic to be introduced, but it's enjoyable. I did think being the 'Witch Queen' as opposed to just a witch, even a powerful witch, was too much. It felt like the author just had to make her that extra little bit special.
The writing is perfectly readable and, as far as I could tell in audio (it is well narrated) the editing is clean. However, the book ends very abruptly with nothing concluded or wrapped up.
---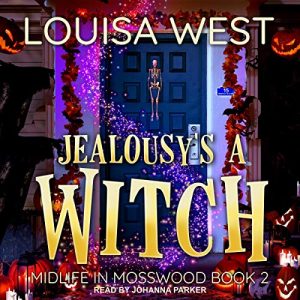 She thought that her life couldn't get any stranger. Boy, was she wrong.
Rosemary Bell's ex-husband is now a turtle, she's suddenly witch royalty, her daughter Maggie's new best friend is an imaginary kangaroo hopping around the forests of Mosswood, Georgia, and her Witch King, Declan, isn't making her life or her couch's throw pillows any cushier.
Just as she's starting to fall for Declan, a shocking confession leaves her reeling and Rosie wonders whether she is really meant to be the queen of anything. When a sexy bombshell arrives in town with her eyes set on Rosie's King and crown, she will have to decide for herself what her destiny is – and soon.
Struggling between caring for Declan and caring for herself and Maggie, Rosie does her best to rise above the woman's provocation. But when Maggie is kidnapped on All Hallow's Eve, Rosie has no choice but to trust Declan and work together to get her daughter back. After an intense magical ritual brings her new powers full circle, Rosie finds out that jealousy's a witch – literally!

I still liked Rosie here in Jealousy's a Witch, and I liked the addition of Maggie as a character. But I didn't like this plot as much as the previous book. I think the jealous ex girlfriend/wife/etc as the villain is super over-used and cliched.
I respected the heck out of Maggie for immediately taking action when she saw red flags, but also her ability to not overreact (or maybe West's willingness to not over-blow all the  emotions). I also appreciate that West subverted the 'overheard conversation causes a misunderstanding' trope by allowing an overheard conversation to smooth over a misunderstanding.
All in all, I'm enjoying the series and will likely continue it at some point. But I think I've had enough for the moment.
---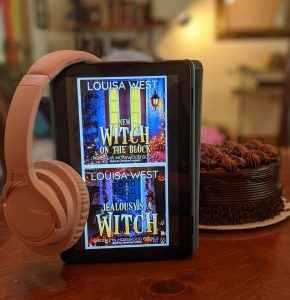 ---
Other Reviews: