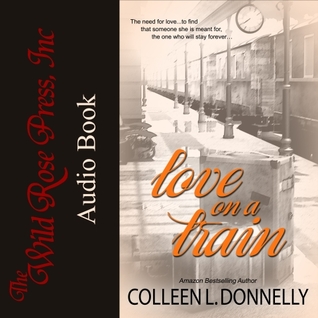 I received an Audible code for a copy of Colleen L. Donnelly's Love on a Train.
Description from Goodreads:
The moment Martha noticed Raymond on the train, everything her mother warned against erupted – romantic notions, palpitating heart, the desire to write it all in a novel and tell the world.
Martha lived and wrote that love story until the day Raymond handed her a sketch. "Want to see a picture of the girl I plan to marry?" The penciled profile resembled Martha… But when Raymond went away, she knew. She wasn't the girl he planned to marry.
David was her father's apprentice, everything Martha's mother said made a good husband – hardworking, no romantic tendencies, no tolerance for writing about it.
Martha added a fictional happy ending to her and Raymond's story and published it. Cleansed herself of romantic love, ready to marry David. Until a copy of her book appeared. Full of sketches, Raymond's version of their love story, drawings that enticed her heart to beat once again.
Review:
My rating (which was a 2 star) is based on my enjoyment—or general lack there of—and the fact that I had to force myself to finish the book. The writing is solid and I'll even concede that the book within a book mechanism was clever (though occasionally repetitive). And the narrator (Amy Deuchler) did a good job with the audio version. However, I didn't enjoy the book.
I understand that it was supposed to be set just after the end of the world war and women of that time period had different responsibilities and restrictions. But my god, Martha was a fucking doormat. She didn't stand up to her mother when they pushed her into an engagement she obviously didn't want. She didn't push pack when her fiancé (and mother) expected her to give up all of herself to be a wife. She somehow fell in love and thought to marry a man she met on the train, but apparently didn't actually know that well. She just went along with everything, internally hand wringing the whole time. And despite being obviously smart, she had NO AMBITION beyond getting married.
Then there was the fact that said man was already engaged to another and just disappeared for months without a word. But as soon as he shows up everything was forgiven and it's supposed to be a happy ending. Ummmm, no.
And Donnelly should seriously be fined for making the reading of a novel take weeks, dragging the plot out interminably and then, after hundreds of pages of 'should I or shouldn't I' marry him, having the decision and event (arguably the most interesting thing to happen in the book) happen off page, such that the reader is denied it.
I imagine this is just a case of wrong reader for the book. There will no doubt be some that enjoy this. But I did not. I was almost insulted by it.