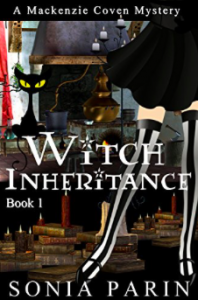 I downloaded a copy of Sonia Parin's Witch Inheritance
 from Amazon, as a freebie.
Description from Goodreads:
Lexie's birthday has caught up with her, as have her cousins, Mirabelle Louisa Mackenzie – High Chair of the British Isles and all Circumferential Domains Pertaining to the Mackenzie Coven – and Catherine Marianna Mackenzie, her down under cousin (If she has a title, she's not telling her). They've been sent to remind Lexie of her family obligations and also to give her a birthday gift. The type she can't return, refuse or exchange. It's her heritage and it comes with a job she didn't even apply for. It's actually more a way of life than a career and it comes with a snazzy new outfit only her cousins can see. Thank goodness for that…
Not surprisingly, Mirabelle and Catherine Mackenzie are short on details and time to explain. In fact, Lexie has less than two days to brush up on her skills and fly to England… at the blink of an eye. The Mackenzie Coven has been enlisted to assist with a rising concern at House St James. It comes in the shape of an inky black fog Lexie calls the menace. It might not be in corporeal form, but it's somehow managed to murder one St James family member. Now it's Lexie's job to make sure it doesn't strike again, but she's fallen under a spell. Suddenly she's tearing off her beloved denim jeans and Rock Hard t-shirt and donning bespoke designer dresses and sipping 'delish' champagne. Even her accent has changed and her cousins can't do anything about it because a covenant prohibits all three Mackenzie Coven witches from gathering in the house together. They must somehow circumvent the seal and guide Lexie through her first official task as a Mackenzie Coven witch and find the murderer before all the heirs meet their end…
Review:
That was…..that was a decent outline of the dialogue for a future book. Unfortunately, I don't feel like it was then fleshed out into an actual novel (or even a novella). It is literally like 80% dialogue, with no world or character building. The reader is dropped into the middle, characters appear and aren't introduced or explained, the plot make no sense and the narration is cheesy. I mean, the villainous evil is called the "inky black fog." And while I sense this was meant to be humorous, it wasn't. Then the climax arrived abruptly and the book ended on a cliffhanger. I will not be continuing the series.