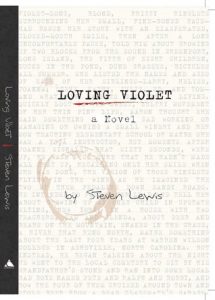 I won a copy of Steven Lewis' Loving Violet through Goodreads.
Description:
Loving Violet is a tight cinematic narrative about conflicting dimensions of love, romantic as well as familial, told against a backdrop of the pleasures and frustrations of "the writing life." A generational sequel to Lewis's Take This, the book follows the late Robert Tevis's grandson Aaron through his entry into a graduate MFA writing program and the arms of the most drop-jaw gorgeous–and disarmingly untethered–girl he has ever known. From there we follow Aaron and Violet as they travel through the intoxicating, absurd, and confounding stages of erotic love, from a fictional Westchester college to a small loft in Brooklyn, the North Fork of Long Island, and, finally, with their newborn Esme, to Central America. In Manuel Antonio, Costa Rica, Aaron and Esme establish an unusual extended family life with a unique group of women (his divorced mother, widowed grandmother, his late grandfather's lover, and the grandfather's former hippie caretaker) while Violet travels the globe as a successful writer.
Review:
I'm uncertain about how to feel about this. I found the writing quite lovely (though the editing had the occasional mishap, usually in the form of a missing word here or there), but I finished it with a vaguely disquieted feeling, like something important was missing.
I'm tempted to say it's the point, that's what's missing—Why were we told Aaron's story? What were we meant to take away from it? But I think that's an oversimplification. No doubt there was a point, even if I couldn't quite put my finger on it.
There's a chance my discomfort stemmed from how self-indulgent it felt for an author to write about the life of a burgeoning author. Then to see him give the success away, almost unearned. No doubt the book's MFA professor would have some cutting remark about my prosaic expectations as a reader; seeking some lofty (easily identified) meaning and dismissing a good story.
Perhaps I was uncomfortable with the fact that the book was full of interesting women, but focused solely on one boy/man (and occasionally his father). The women exist, not on their own, but in their relation to these men, Aaron in particular. Violet, especially, for all her foibles, seemed more a figment of Aaron's mind than a real person. Maybe this was the problem. I didn't understand why Aaron was so obsessed with her, other than that he fixated on her.
I said early on that I thought this book was the sort where the ending would make or break it. I won't go so far as to say it broke the book, but it sure didn't make it. I feel kind of like the book just fizzled out, never had accomplished that incandescence it was obviously reaching for. It wasn't bad. It was an enjoyable story that I don't regret reading. I just don't think it was much more.