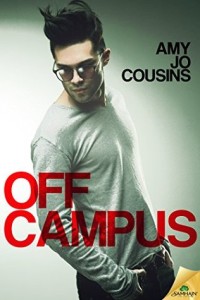 I bought a copy of Off Campus, by Amy Jo Cousins.
Description from Goodreads:
Everyone's got secrets. Some are just harder to hide.
With his father's ponzi scheme assets frozen, Tom Worthington believes finishing college is impossible unless he can pay his own way. After months sleeping in his car and gypsy-cabbing for cash, he's ready to do just that.
But his new, older-student housing comes with an unapologetically gay roommate. Tom doesn't ask why Reese Anders has been separated from the rest of the student population. He's just happy to be sleeping in a bed.
Reese isn't about to share his brutal story with his gruff new roommate. You've seen one homophobic jock, you've seen 'em all. He plans to drag every twink on campus into his bed until Tom moves out. But soon it becomes clear Tom isn't budging.
Tom isn't going to let some late-night sex noise scare him off, especially when it's turning him on. But he doesn't want any drama either. He'll keep his hands, if not his eyes, to himself. Boundaries have a way of blurring when you start sharing truths, though. And if Tom and Reese cross too many lines, they may need to find out just how far they can bend…before they break.
Review:
This book is of such a higher caliber than many of the M/M books I've read. If I used stars, I'd say it only skirts around a 5 star for personal preference, not-the-perfect-book/reader-matchup issues.
I really appreciated the two real, flawed, but surviving main characters. I liked the larger than life side characters too. Cousins used repetition to highlight Tom's obsessive thinking and his anxiety level was instantly recognizable. Similarly, Reece's coping mechanisms were believable. I liked how hard the characters had to work for their happiness and I really loved Toms need to make 'this one thing' work out and be right and good for someone. It was both utterly selfish and completely generous at the same time and the dichotomy of it was delicious. I The writing and humor is also excellent.
I did think that a couple major problems were solved with questionable ease toward the end and I was almost offended with how easily the second largest issue on Tom's list of fears was just swept away. (Though I do see what the author was doing there.) But these are small complaints in the grand scheme of things. Really a great read.