I picked up a free audio copy of Bridget E. Baker's Anchored on Google Play. It was narrated by Jennifer Jill Araya.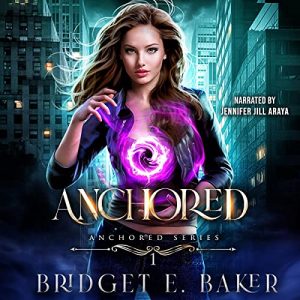 Two worlds, one fate…
Alora was born with the ability to Lift, a power no other women on Terra possess. If the wrong people find out, there's no telling what will happen. But when she almost kills a man in self-defense, her secret is exposed and she's forced to run for her life.
On Earth, Alora's running from something else: hazy memories of her parents' death and the social worker who wants to separate her from her brother. When she sees the man she almost killed on Terra at work, she's flummoxed. She's never recognized anyone from there before—after all, Terra exists only in her dreams…
When her dreams begin to leach into reality, something incredible awakens in Alora. But she knows better than anyone that everything comes with a cost. As the barrier between worlds crumbles, Alora must decide which is safer, which is more powerful, and which world is worth saving.

It's not that I didn't like this, it's just that I was ready for it to be finished way before it actually was. The book is loooooong and it feels even loooonger than the 412 pages (14 hours 27 minutes) it is listed as. And I get it—the book contains two interconnected, but not completely overlapping stories. So, I understand why it's required a lot of pages to tell the tale. But good lord, I thought it would never end.
The writing is fine. The narrator did a good job. As far as I can tell in audio, the editing seems fine. But I was just a little sick of the special-special snowflake that was Alora. She was the best at everything, important to almost every named male character in the book (be it familial love, attraction, or fanatic hate) and there didn't even seem to be any other female characters of note. Plus, Alora was too wrapped up in her own head, too many characters showed up and then were dropped as unimportant as the story progressed, and the ending wasn't particularity satisfying. Not enough of the overarching issues were actually explained and the last minute attempt to make the villain relatable fell flat for me.
All in all, I didn't hate it. But I'm not in any hurry to read more of the series either.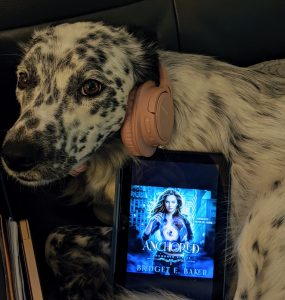 ---
Other Reviews:
Iheart Fictional People – Review: Anchored, by Bridget E. Baker