This is my stop during the bookstagram blitz for Aofie's Quest by Angela J. Ford. Aofie's Quest is a New Adult Fantasy Adventure book with Celtic mythology, strong heroines, magical weapons, mythical beasts, gods & goddesses and a slow burn romance.
This bookstagram blitz is organized by Lola's Blog Tours. This bookstagram blitz runs from 15 till 19 March. See the tour schedule here.
Don't miss the tour wide giveaway! One lucky winner will win digital copies of Angela J. Ford's Night of the Dark Fae series. You can enter the giveaway at the bottom of this post.
Aofie's Quest
Gods & Goddesses of Labraid #1
By Angela J. Ford
Genre: Fantasy Adventure
Age category: New Adult
Release Date: March 26, 2021
A warrior princess with a dire future embarks on a perilous quest to regain her fallen kingdom.
Eighteen-year-old Aofie's Mor is an outcast princess, hiding in the sacred forest of the centaurs. She's spent her life training for one purpose: to take back her kingdom from the angel of death.
When she comes of age, the centaurs prepare her to reunite with the humans. However, on the morning of her departure, she learns a horrific truth that leaves her questioning her true identity.
Frustrated, but taught not to question the will of the gods, Aofie travels deep into perilous lands in search of her birth mother. Along the way she accidentally frees a dangerous goddess, befriends a mysterious iceman, and meets a magic-wielding nymph.
But threads of betrayal and corruption run deeper than Aofie imagined. As she faces trials and tribulations, she begins to question everything she's assumed to be true. Caught in the ultimate war between good and evil, Aofie must make a choice about her future.
Will she have the strength and courage to take back her kingdom? Or will she turn her back on fate and choose her own destiny?
Welcome to the land of Labraid, a war-torn world where demons rise and the gods and goddesses toy with the desires of humans.
Aofie's Quest is a dark and exciting fantasy adventure. If you like fierce heroines, treacherous royals, mischievous immortals, wild plot twists and Celtic Mythology, buy Aofie's Quest today.
Links:
– Goodreads
– Bookbub
– Amazon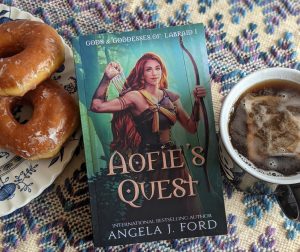 Review:
What first attracted me to Aofie's Quest was the cover, or more specifically the illustration of Aofie on it. She looks like the warrior she's supposed to be—broad shoulders, muscular arms, leather armor (but not useless sexy leather armor), even one forearm that maybe looks bigger than the other, as I'd expect for an archer (though that may just be the angle of the picture). I thought, "Here is a author/illustrator who made an effort to genuinely depict a physically strong woman" and I very much appreciated that.
I'm uncertain if that carried through into the actual book though. Aofie does not come off as physically strong for a lot of the book. I don't think she shoots a single arrow (losing her bow very early on) and she barely fights, which is only an issue since her being a warrior princess is emphasized several times. But she does survive quite a lot and undergoes a lot of emotional growth. One strongly senses that this was just the beginning of a longer journey for her. I feel this is the book in which she grew into the warrior princess title, rather that the one in which she actually is a warrior princess. I'm a bit disappointed by that, as I'm a little burned out on such Young Adult books. But I can't penalize the book for being what it is—a YA book.
The writing is quite readable, though there are a few anachronistic phrases tossed around on occasion and I thought the editing a little rough in patches. Though I'll state for the record that I got my physical copy directly from the author and it might be an ARC, which wouldn't have had it's final edit yet. It's not labeled as such (which is why I'm mentioning the editing), but I happen to know that e-copies that went out at roughly the same time were labeled as ARCs. So, there's a chance this was meant to be. And if that's the case, this whole editing comment can be disregard.
Romance is a strong subplot here, not the main brunt of the story. But I felt cheated by it. I appreciate that the man filling the possible love interest role for most of the book is a bit more gray than we're used to. But the sudden departure from the established path that the romance took at the VERY END made me feel like every previous romantic hint should have just been left out entirely. I got a bit of whiplash from it; though I admit to liking the individual at the end better. (I hope I managed to write that sentence in a suitably vague and non-spoilerish way, but also convey my meaning. It's often a challenge.)
All in all, I didn't dislike Aofie's Quest by any means. But I feel I'd probably like future books more than I did this one. It's strong in the YA and that's not my bread an jam. But for those for whom it is, I think Aofie will steal hearts.
About the Author:
Angela J. Ford is a bestselling author who writes epic fantasy and steamy fantasy romance with vivid worlds, gray characters and endings you just can't guess. She has published 14 novels, 6 short stories, and sold over 32,000 copies.
Angela is also a Co-Founder of Booksniffer. A new app for book lovers, plus an effective way for authors to market their books to new readers.
She enjoys traveling, hiking, and playing World of Warcraft with her husband. First and foremost, Angela is a reader and can often be found with her nose in a book.
Aside from writing, she enjoys the challenge of working with marketing technology and builds websites for authors.
Angela is passionate about helping indie authors succeed and co-hosts a podcast called Indie Author Lifestyle.
If you happen to be in Nashville, you'll most likely find her enjoying a white chocolate mocha and daydreaming about her next book.
Author links:
– Website
– Indie Author Lifestyle podcast
– Marketing for Authors website
– Booksniffer
– Facebook
– Twitter
– Goodreads
– Amazon
– Instagram
– Newsletter
Giveaway
There is a tour wide giveaway for the bookstagram blitz for Aofie's Quest. One winner will win digital copies of the Night of the Dark Fae series by Angela J. Ford. You can enter the giveaway
here
. Or use the rafflecopter below:
a Rafflecopter giveaway