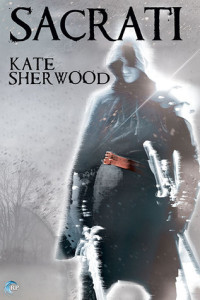 I received a copy of Sacrati, by Kate Sherwood, from Netgalley.
Description from Goodreads:
As an elite Sacrati fighter in the mighty Torian military, Theos is blessed with a city full of women who want to bear his children, and a barracks full of men proud to fight at his side and share his bed. He has everything he needs—until he captures Finnvid on a raid.
Finnvid is on a secret mission to prevent the Torian invasion of his homeland Elkat. Being enslaved by Torian soldiers wasn't in his plans. Neither is his horrified fascination with the casual promiscuity of the Sacrati warriors. Men should not lie with other men—and he should not be so intrigued when they do. He definitely should not be most intrigued by the leader of the soldiers who captured him and plan to invade his home.
For Theos, everything would have been easier if the infuriating, lying, bewildering Elkati had never come into his life, but he can't stay away. When betrayal and treachery threaten both their nations, they must work together to stop a war that could destroy their homes forever—even as they begin to question everything they're fighting for.
Review:
I rather enjoyed this book. I did think that the way Theos treated Finnvid was COMPLETELY unbelievable for a man raised with normalised slavery. But once I deliberately forced myself to suspend that particular disbelief, I could roll with most the punches and enjoy myself.
I thought Theos was adorable—not dim, exactly, but not a man who thinks deeply either. I wasn't as enamoured with Finnvid. I thought him a bit inconsistent. But as a counterbalance to Theos, he worked.
Unfortunately, the whole idea of what is 'natural' or 'unnatural' was over-emphasised and heavy handed. Yes, I understood the message, but didn't need it reiterated quite so often. Similarly, I think the men lost the ability to verbalise anything but "I love you" in the last ten or so pages. It got redundant.
Speaking of endings (and this may be spoilerish), forcing the two men to desire monogamy felt like an artificial machination to provide the proper type of HEA to a Western audience. It didn't at all fit the culture as established by the author.  What's more, thinking past the last page, it would undoubtably cause future discord and I have trouble believing Finnvid would even request it of Theos (considering the social importance of sex between male Torians). I thought it was a cop out.
So, I had a few complaints, but for the most part, the writing was readable, there was some humour, I like the characters, it was an interesting world (at least the Torian culture was, Elkat was just a hollow reproduction of the recognisable), I don't remember any editing issues and I enjoyed the time I spent with the book. It was just plain cute. I really can't ask for much more than that.