I accepted a review copy of Claire S. Duffy's Before Again from R&R Book Tours.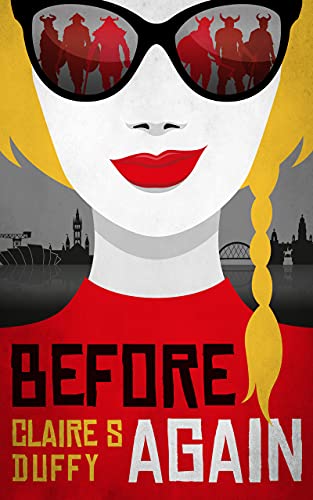 He's been killing for hundreds of years.
But he reckoned without her.
Kirsty has always been alone.
It's fine. It's what she's chosen. People, as a general rule, are more trouble than they're worth. It's why God invented batteries.
But when she comes across the man being burned alive on the banks of the Clyde, she can't just let him die. Without a second thought she batters in to save his life…
And accidentally tears the fabric of time.
Now an ancient serial killer is on the loose and only Kirsty can make him regret he was ever born.
Even if it means killing the only person who ever loved her.
Sometimes she can bloody well see all these magic destiny shenanigans far enough.

I enjoyed the heck out of this. It was fun, snarky, and kept me interested.
I did struggle with some of the Glasgow slang. Most of it I could guess from context, but some I just had to shrug at. But I also accept that not every book is written for the American market/reader, so I don't consider this a big deal. I just mention it as an FYI.
What was a big deal was the super over-abundance of the word wee. I realize that culturally some people use this word more than others. But I also think there is a limit to how many times a reader should have to encounter a word in a single manuscript and this book has far, far, far exceeded it. We're talking more than one per page sometimes, from multiple characters. I kept wondering if this was actually going to be revealed as an authorial joke at some point. It. Was. Not.
All in all, I really liked the author's humor, that the main character is a little older than you'd expect, the obvious love for the city of Glasgow, and Frej. How I could adore a character who didn't talk for half the book so much, I don't know. But I did.
I didn't realize when I picked this book up that it is part of a series. So, I wasn't expecting the cliffhanger ending. But I'll be looking for book two.