I received an Audible code for a free copy of Born of Metal, by A.L. Knorr and A.D. Schneider.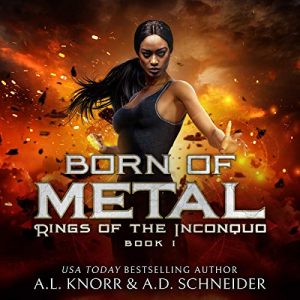 Her family is all that matters, too bad they may be the death of her…
Ibby's parents gave up everything for a chance at a better life. So, after a terrible accident leaves her alone in London, Ibby works her internship at the British Museum and goes to her classes to make them proud.
She hopes to one day bring her uncle, her only living relative, to the UK. Family is what matters. But, when Ibby finds a hidden artifact and encounters a mysterious stranger in the bowels of the museum, she learns that its her lineage, the very origins of her family, that will put everything at risk. That, and metal is starting to do some pretty bizarre things around Ibby.
A powerful artifact, a secret society, an ancient evil. Can Ibby embrace her destiny as Inconquo guardian before an ages-old demon is unleashed on London?
If you love strong female characters and millennia old secrets, you'll love the origin story of Ibukun Bashir, metal elemental. Welcome to the world of the Inconquo.

I thought this was a middle-of-the-road enjoyable read (or listen, rather). I liked Ibby. I liked the immigration aspect of her character. I liked the idea of the ability to control metal. I liked her self-sufficiency and smarts. However, I never felt particularly immersed in the world. This may be because the book is a spin-off from another series (which I didn't know when I decided to listen to it). It may be because the book is all running here, being attacked there. It never settles enough for the reader to catch a breath and start caring. Plus, there's a pretty big deus ex machina moment toward the end.
I see several people in the reviews complaining about the narrator. I had little problem with her. I thought she was a little dry with some characters (the demon, for example), but was mostly fine. I'd listen to her again.