I received an Audible code for a copy of Chaos, by J.B. Trepagnier, narrated by Anneliese Rennie, Portia Kay Winters, Austin Barringer, Carl Mason, Antonio Amato, Aaron Shedlock, Liam Di Cosimo, and Mike Johnson.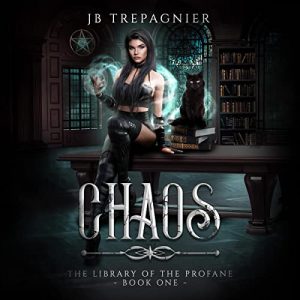 The Library of the Profane has everything your black heart desires. But we don't just allow anyone to get a library card.
Need to summon a demon? Raise the dead? A clan of vampires bothering you? Do you like the really nasty werewolf erotica? The Library of the Profane has all of that, but not everyone can handle the contents (Some people can't handle their werewolf erotica). I've been a librarian here for five years and when I say I killed to get this job, I'm not being facetious.
You can't check out our books. Some of the books are sentient and don't like it. We have rooms to perform the spells in or hell, we do have a copy machine (copies are extra). When a witch came in and said they needed to do a little necromancy, I didn't question it. They wouldn't have been given a library card if they were going to raise someone really bad. I helped with the necromancy because it's just my job as a librarian.
Except it wasn't a normal resurrection. It was the physical embodiment of Chaos and when he woke up, he saw me first and now he's attached. Chaos personified is a horrible library guest and he won't leave with the witch who raised him. He's constantly getting into things he's not supposed to and he's really into the werewolf erotica.
It's not like I can let him out because the Library of the Profane is meant to contain Chaos. The rest of the world isn't. He's awful about keeping his identity secret too. A warlock, a Hellhound, and a vampire know he's here and they are bugging me to let Chaos have a little fun.
I just want a normal day of summoning demons, cursing people, and telling people to be quiet in my library. This is too much.


Sooo, this was a flop for me. I'm not certain which I liked less, the story or the narration. This book has nine narrators and it is not a feature. I found it super distracting (and hated one of the voiced characters entirely). The narrators did a fine job (even if I disliked one), but there didn't need to be so many of them. It detracted from the experience. Why would anyone choose to do this?
As for the story, I found it flimsy and unsubstantial. Ripley exists. All the men who are forming her harem exist. That's about all I can say for them. There is so little character development that they all remain virtual strangers (to the reader and each-other).
Lastly, the book barely introduces all the characters and the mystery before it ends on a cliffhanger. As much as I hate starting stories I don't see the end of, I won't be continuing this one.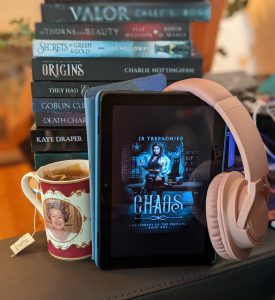 ---
Other Reviews:
BOOK REVIEW: Chaos (The Library of the Profane) by J.B. Trepagnier #reverseharem #urbanfantasy