I'm participating in Pump Up You Books' tour for Cassie Sanchez's Chasing the Darkness and accepted a copy for review. The book was also promoed with an Author Interview over on Sadie's Spotlight.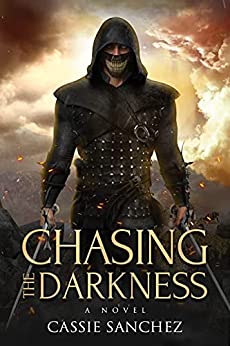 Pain is inescapable. Suffering is a choice.
Azrael, the Angel of Death, knows pain. The deaths of his mother and sister, as well as his harsh experiences in the Watch Guard at age twelve, have brutally shaped him into the most feared assassin in all of Pandaren. Azrael's role as a Hunter requires him to search for those with magic, called Spectrals, which he is happy to do. Hunting allows him to pursue his true goal—exacting revenge on the Fire Spectral who altered the course of his life.
Azrael's obsession with revenge and power leads him to undergo an experimental procedure that gives him magic, but when this procedure has unexpected and dangerous side effects, he becomes a liability to the Hunters and the Watch Guard. Rescued by the people he has sworn to eliminate, Azrael finds himself questioning everything he once believed as years of secrets and lies are exposed. His very nature is challenged as he battles unfamiliar emotions and navigates relationships that contradict the heart of a killer.
Can the Angel of Death have a conscience? Can Azrael?

Chasing the Darkness has several positive traits—the morals and/or themes of not being defined by your past, it's never too late to change for the better, the strength of love and loyalty, etc. Plus, the mantra of "Pain is inescapable. Suffering is a choice." is a great tagline.
However, I found the storytelling inelegant on several fronts. The villain is a caricature, there are several inconsistencies in behavior that Sanchez glosses over, the "assassins" are really just an elite unit of soldiers who function as soldiers (no actual assassinations occur), the love is practically instant, and it is brought up so often it clutters the narrative.
Despite all that, it is a compelling story that I wouldn't discourage anyone from reading. If I regularly used ratings here on the blog, I'd give it 3 stars.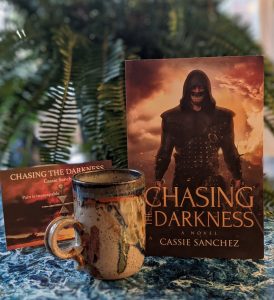 ---
Other Reviews:
Ashley's Bookshelf: Chasing Darkness