I believe I purchased my copy of Eva Chase's Chosen by Villains during a signed book author event.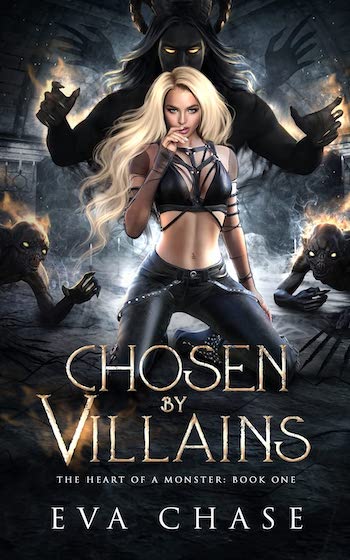 Three brutal monsters came to my rescue. Now who's going to save me from them?
Every beat of my heart is the tick of a time bomb, reminding me to squeeze as many thrills out of life as I can. Still, the last thing I expect is a horde of nightmarish monsters descending on me in the night, eager to tear me apart.
So when three more demonic figures leap out of the shadows to defend me, my choices are trust my unexpected champions… or die. Not exactly a tough decision.
The beastly men wrench me away from my home, claiming they'll keep me safe. They say there's something special about me—something the others want to devour and they mean to protect.
My monstrous saviors are just as brutal as the creatures they fought off, damaged in ways I'll never understand. I can tell they're hiding things from me. But the more we dig into the mysteries surrounding my existence, the more I catch glimpses of tenderness beneath their vicious exteriors.
And the touch of their fangs and tentacles makes me feel so shockingly alive, it's hard to remember why I ever feared them…
Until I discover the real reason they're protecting me.

Meh. This was a pretty bland read for me. To start with, I didn't know beforehand that it is set in the same world as the Flirting With Monsters series. Maybe it's a spinoff (the characters from that series make an appearance). I don't know the specifics. I do know that there is so little worldbuilding in this book that if I hadn't read the Flirting With Monsters series in the past, I would have been lost.
I do not feel that I got to know the characters. (Not that I really needed to. The men are clones of the men from Flirting With Monsters.) I did not feel any chemistry between the lovers. I don't honestly think there was enough time for any to develop. The plot is simple and predictable. Mostly, it all simply coasted along at just good enough. Never did the book get good and grab my attention. But never did it ever get quite so bad that I decided to DNF. I was mostly just kind of bored with it. Meh, bland.
The writing and editing are fine. The cover is pretty (though I don't think it matches the tone of the book at all), and I did appreciate all of the disability rep. Honestly, this is probably a case of just not the book for me. I've liked other Chase books a lot more.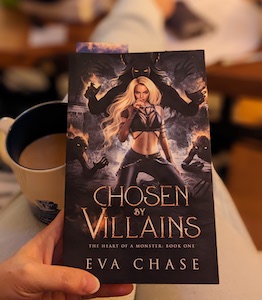 ---
Other Reviews: