I accepted a copy of Alexis Calder's Darkest Mate for review, as part of its tour with Rockstar Book Tours. It was also previously featured over on Sadie's Spotlight.
Weakness means death. Or worse.
After I was abandoned as a child, I was taken in by the Shadow Pack. A group of
ruthless, lawless, shifters who have only one rule: never let anyone see your
weakness.
In exchange for them keeping me alive, I owe them. The leader of the Shadows is
as handsome as he is ruthless. And he's offered to wipe my debt in exchange for
marriage. He'd offer protection, but it would cost me my freedom.
Survival in the Shadows depends on back alley deals and shady alliances. It's
become a way of life that I stopped questioning years ago. When a routine
burglary goes wrong, I find myself captured by the one family I never should
have crossed.
The Umbra family owns this city. They make us Shadow wolves look like the good
guys. They should have killed me for my crimes, but there's a tiny problem… It
turns out Madoc Umbra is my fated mate.
Instead of killing me, I'm a prisoner. The rest of the family doesn't know of
our bond and I intend to keep it that way. Madoc's brothers want to end my
life; he wants to break the bond. I just want to get the heck out.
As long as I don't let them see any weakness, I might have a chance of making
it out of here alive.
Darkest Mate is a full-length paranormal romance. 17+ for dark content,
steamy scenes, and language. This is book one in a trilogy and is not a
standalone. Mind the cliff.
---

This was a fairly middle of the road read for me. If I used star ratings on the blog, I'd give it a 3. But I think whether people like the book or not will depend on if they like the tropes used or not. Because there isn't anything new here. Almost every aspect of this plot and the characters will be familiar to anyone who read the genre. But if you happen to like those elements, they're done as well as anywhere else. The writing is also quite good.
The thing for me, though, was that I spent the entire book honestly angry that Ivy was being so unbelievably stupid. And I don't just mean that as she was doing something excessively stupid, but unbelievably stupid in the sense that I absolutely did not believe that the character, as written, would do the stupid thing she did and continued to do. It was 100% unbelievable AND stupid, which pretty much undermined the legitimacy of the story.
The book got moderately more interesting for me at about the 80% mark. But at that point it wasn't enough to save the book. I'd like to know what happens between Ivy and Madoc. But I don't think I'll continue the series. I just don't think my temper can handle it. But different strokes for different folks and you may not have the same reaction.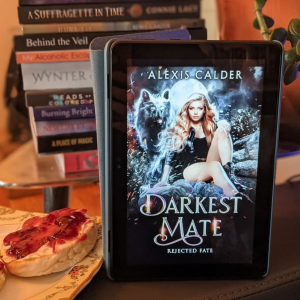 ---