I grabbed a copy of Tameri Etherton's Fatal Illusion when it had a freebie day on Amazon.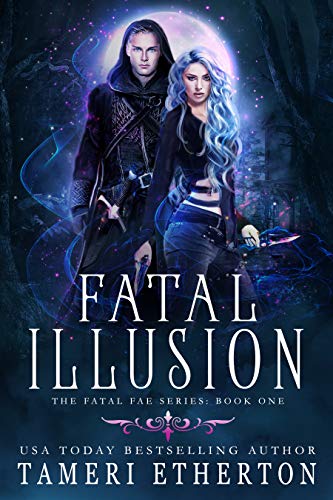 Don't believe what you can see.
Fae are disappearing at an alarming rate and Rori MacNair must find out why before civil war ignites between the Seelie and Unseelie queens. When she wakes up alone in a strange forest, she must rely solely on her own wits to prevail against the dark forces rising against her people.
Assassins are taught to trust none but themselves, but Rori rarely plays by the rules. Dare she trust the mysterious stranger Therron when illusions cloud reality and nothing is as it seems? Her life, and those of Faerie might depend upon it.
Therron Mistwalker is hiding a secret. Having forsaken his kingdom, he lives as a thief among the fae, but when Rori enters his life he fears his days of autonomy are at an end. It's a day he's been dreading since he was born.
Relations between Faerie and the human realm are about to turn from respectful to hostile, and it's up to Rori and Therron to find the enchantress responsible. . . if they can get over their differences long enough to do so.

I thought this was amusing, but shallow. There were too many elements plopped into the plot but not elaborated on. There's a curse to be broken and maybe a fated mate scenario, plus a potential war (that you never really feel the threat of since the queens get along well), evil sorceresses, and a mysterious threat from the human realm. But none of that is delved deeply enough into to grab the readers attention. Honestly, the fact that some of it is mentioned and not integrated into the plot is a big reason I won't rate this higher. The whole 'Rori could break Terron's curse' thing especially. What's the curse? How might she break it, etc? It felt VERY left out. Mentioned, but nothing more.
Also, Rori has to be the worst spy ever. And she's supposed to be a SPY in the book, even though the blurb says assassin. Maybe those two are one and the same and the words can be used interchangeably, but I'd expect to understand that to be the fact, having finished the book if it was the case. But, again, Rori has to be the worst spy ever. Everyone seems to openly know she is one and though Therron (not a spy) knows who she is (a spy), she doesn't know him or his name despite being the heir to a neighboring kingdom.
All in all, the writing is easily readable. I don't remember any editing mishaps and I liked the characters well enough. But I felt like I was reading an outline to a book, rather than a wholly developed one.