I accepted a review copy of Fate Awakened, by Jocelyn Montana as part of its book tour with Rockstar Book Tours. The book was also featured over on Sadie's Spotlight. So, you can hop over there for author information, an excerpt, tour schedule, and chance to win a copy of the book for yourself.
A fierce werewolf consumed by his past. A human used as bait. A connection neither expects.
A MONSTER TO EVERYONE BUT HER …
Hans lives only for vengeance. No more Pack. No friends. Only the dark void inside him tormenting him about his past. Yet when he meets a dark-haired beauty, desire tears through him and changes everything. But werewolves never take mates, and to claim her would doom him and ensure the rising evil wins.
AN ORDINARY HUMAN TO EVERYONE BUT HIM …
One moment Briony's eating in the tavern, and the next a necromancer has her tied up in a cave as bait for a werewolf. Stuck in the middle of a centuries old battle, she needs to escape. Now. Except when the werewolf arrives and she gets her chance, she doesn't run. No—she helps him and decides to join him to face a formidable enemy who will do anything to kill her. And with each day that passes, every gentle touch, every silky purr, the werewolf claws his way further into her heart.
BOUND TOGETHER AGAINST AN ANCIENT EVIL …
They have one month to work together to take down a sorceress. One month to decide to remain together forever. Everyone in Briony's life has left her, and she doesn't believe in love anymore. Secrets in Hans's past prevent him from making Briony his. They may save the world, but will they save each other?

I thought that this book was OK. It didn't light me on fire. But I strongly suspect that it will some people, depending on what you're looking for in a monster romance. The writing and editing is mechanically fine. The plot holds together and the characters are likeable enough. So, it all just comes down to personal preference. And this is where I was left to just kind of shrug.
Sure, Hans is a monster who doesn't take human form. But he feels awfully human-like. This is  exacerbated by just how colloquial a lot of the dialogue is. I was often yanked out of the narrative by some particular turn of phrase that just felt a little too normal to be coming out of the mouth of a non-human who presumably wasn't socialized in modern America.
Similarly, despite being a planet with two suns, two moons, and fantasy creatures, surprisingly recognizable things would pop up—like Baba Yaga. I mean sure, all the monsters were recognizable ones. Though sometimes called something different, there were elves, shifters, goblins, trolls, etc. But when mythological characters show up by name, I'm left wondering if this is a different world or a far future post-apocalyptic Earth. Either is fine. But the fact that I've finished the book and can't tell you isn't. In the end, it just felt inconsistent.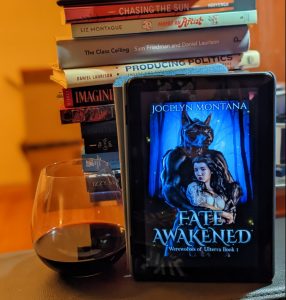 Mostly though, I found that I was just bored with a lot of it. There's an interesting fight to save the world going on. But it feels like set dressing to the romance. And, as sweet as that romance is, it wasn't enough to keep me interested for 330 pages.
So, all in all, I'll call this a middle of the road read for me, while acknowledging that it'll float someone's boat for sure.
---
Other Reviews:
Beers Books Boos: Fate Awakened