I picked up an Amazon freebie copy of Quell T. Fox's Finding Friday.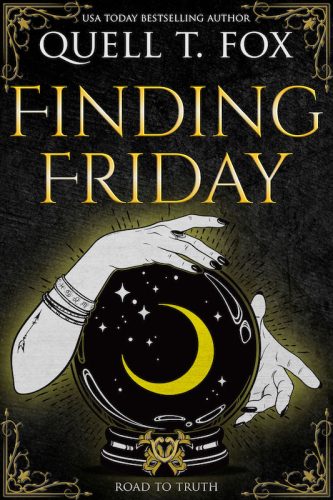 Cheating boyfriend. Check.
Broken down car. Check.
Crappy motel. Check.
Hot guys that want me to go on a road trip with them. Quadruple check.
I've never had much in my life, always been at the bottom of the barrel. I'm used to it. I get by with my looks and bubbly personality. I thought my life was going good, until I caught my boyfriend in bed with another girl. It was like a damn train wreck, ya know? I wanted to look away but I couldn't stop watching.
Gross.
Things only start to look up when I decide- probably against better judgement- to join four random guys on a road trip. But not just any guys…hot guys. Like, really hot guys. Their annual vacation, my getaway from reality. Couldn't be worse than what I've already been through…could it? I mean, what could go wrong on a road trip with four hot men?
The guys- Maddox, Lenny, Callan & Alec.
They've spent countless years searching, falling apart to almost nothing. None of them have much left to give, until they hit one lucky town. Friday is who they've been looking for, but how do they tell her? How do they tell her what they are…what she is?

Meh, I read this first book in The Road to Truth series to see if I was interested in the series. (I also have the omnibus.) I'm stopping here, though. I wanted to like this, and part of me wants to continue. But I realize it's just the sunk cost fallacy rather than any actual enjoyment or connection or even curiosity about what happens.
I've finished this book and feel as if the plot has made no progress. I don't know the characters at all, though I dislike some of them intensely. I have no understanding of the world or species particulars. Plus, the whole thing is in first person present tense, which means it is almost all dialogue and internal monologues. There is simply no subtlety or nuance to the writing.
All in all, as much as I hate abandoning anything partially completed (especially ending on a cliffhanger), I can't take a further 5 books. I'm stopping here.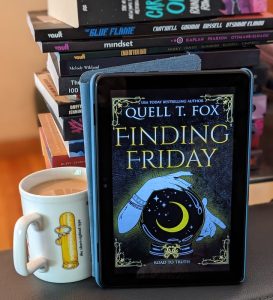 ---
Other Reviews: