I received an Audible credit for a copy of Eva Ashwood's Gift of the Gods (narrated by Stacey Glemboski). Today was chore day. So, I listened to it.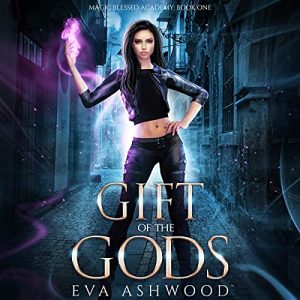 A motorcycle riding Irishman, a bad boy rock star, and an ex-boyfriend I might still have feelings for…
You wouldn't think they'd have much in common, but they do.
They're all students at Magic Blessed Academy, the school I'm forced to attend after I manifest insane magical powers out of nowhere.
Oh, and they all seem to hate me.
If I was smart, I'd keep my head down and ignore all three of these too-sexy-for-their-own-good dicks until I can graduate and get the hell out of here.
But when we're all chosen to compete in the Gods' Challenge, a deadly competition for the honor of meeting the gods themselves, teaming up with these tempting, infuriating men may be my only chance at survival.
Now the only question is: will we kill each other or fuck each other first?

I don't usually use star ratings on this blog. But today I am going to, because it simplifies the point I want to make. This is a true 2.5, in the sense that I would have given the first half a 2-star (and felt generous about it), but the second half improves enough to deserve a 3-star. I wavered about which way to round on this one, but decided to round up because the narrator—Stacey Glemboski—did a good job.
The first half was a struggle for me. I seriously almost DNFed the book. The characters are very shallow and the men, that the reader knows are going to form the reverse harem, are only shown as sexist assholes. We are not given a single redeeming moment with any of them. Honestly, we're not given much of them at all. The reader knows they are the to-be harem because they are the only named men at all, not because Ashwood spends any time developing them. Despite all that, the reader is also told how Aria finds them hot and I was simply indignant on her behalf, to think she would lower herself to be with men who treat her that way. (And it doesn't even rise to enough development for me to call it a bully-romance.)
However, in the second half the personalities change drastically. (We're just going to skip over the 'why would she trust the men who have spent a month demeaning her to team in the first place.') We're given the group working as a team and get to know them A LITTLE better. The shift from platonic to poly is very fast, but it's still satisfying in it's own way.
All in all, if I found the sequel as a freebie I'd probably read it (based on the second half of this book). But I wouldn't pay for it—if that tells you anything.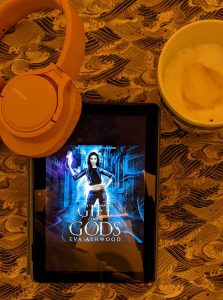 ---
Other Reviews:
Chrissy's Bookshelf – Review: Gift of the Gods