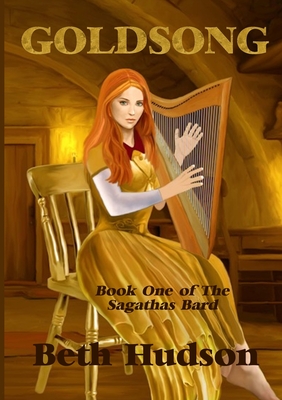 Beth Hudson sent me a copy of Goldsong for review. I meant to get to it far earlier than I did, but I honestly lost the book in the chaos of packing my house to have repairs done, and then finally found it again as I unpacked it. I knew it was here, just not where! (That was fun. <—This is sarcasm.)

A reluctant king. A legendary harp. A city divided.
Traedis Atenel never expected to find herself a king. When she fled her city and her family, all she wanted was to become a bard and make her own way in the world. Now, touched by strange magic and harrowed by imprisonment, she rules the city she once hated.
Despised by its people, she embarks on a mission to reform what was once known as the City of Assassins. After all, she has spoken with gods, walked with dragons, and learned the mysteries of bardic magic. When a demon comes calling, it reawakens a curse that could destroy Traedis and her city.
Supported by her sister Vandeyr, a former assassin, and with the aid of an enchanted harp, Traedis uncovers long-buried secrets and forges alliances where she least expects them. But elemental spirits, ghosts, and hostile powers stand in her way. Some of them will help her. Some will oppose her.
Some of them are certain to be from her own family.

This wasn't bad, but I have complaints. My biggest one is that, though it is labeled "book one" and I couldn't find evidence of another book by the author with the same characters (as in a previous book), it 100%, absolutely reads as if it isn't a first book. There are too many references to a past adventure (leading to Traedis becoming king), too many characters coming and going without enough introduction, too many people with extreme loyalties without the reader understanding why, etc. I felt I was missing something important throughout the entire book.
Outside of that, I liked Traedis as a character,  the general plot is interesting, and it's quite readable. The editing is even pretty good, I only noted a couple small hiccups not worth further mention.There is an appreciable diversity to the peoples, female character are depicted strongly, and there's no gratuitous misogyny or rape threats (always a plus).
But there is a certain naivete to it all. The villains are villainous but largely theoretical in the absence. Those Traedis chooses to like and trust are trustworthy without a fault, no one holds any duplicity (or obvious depth) and she goes about making allies with ease, using little more than her good will, ardent nobility, and mysterious connects made in a mysterious past. It's lovely, but not lovely interesting.
All in all, I'm thinking this (or whatever I'm missing that comes before it) is probably the beginning of a series that will build and get better as it goes along. Goldsong was a worthwhile read, but one I'm not in any hurry to continue, though I wouldn't avoid it either.