I accepted a review copy of Selene Kallan's Huntress Prey as part or its blog tour hosted by Rockstar Book Tours. However, since I wasn't able to give the book a good review, I've held it until the tour finished (yesterday). The book was also featured over on Sadie's Spotlight. You can find author information and the tour's schedule there.

VALENTINE
After almost three centuries of running from my past, I should be used to loneliness. Being a mythological monster isn't compatible with relationships. But the craving for company grows stronger every day, turning routine into an endless nightmare and making me wish for an end to my immortality.

The explosive encounter with a beautiful, lethal fae who knows what I am and how to destroy me reminded me of that proverb: be careful what you wish for.
AXEL
I thought fate could not surprise me after almost six hundred years. And then there she is—the echo of the brave young woman I've heard legends about. Only she isn't human anymore, but a vampire, the greatest enemy of my species. After a fight that could have killed us both, and an uneasy truce, I am left with burning curiosity and so is she.
But will curiosity be enough to quench her thirst for my blood and my impulse to kill her before she strikes?

I admit that when I accepted this for review, I did not realize it was 500+ pages long. If I had, I 100% would not have accepted it. Not only because I wasn't really in a position to want to commit to 500+ pages, but also because 500+ pages is well outside the genre standard for PNR/UF. And, while not without exception, that's because PNR/UF plots don't usually support 500+ pages. That's epic fantasy territory, not PNR/UF. Had I noticed the page count, I would have felt something rotten in the state of Denmark before I even touch a page.
And true to the norm, at 510 pages this book is FAR too long. I'm talking probably twice as long as need be. I'd say it should be split in two, but that infers that there is enough plot here to carry two 250+ page books, and there isn't. (There's barely enough for one!) Instead, I'll say that half—a full 200-250 pages of this book—is chaff. It just plain needs to be cut. The whole excursion to visit Lily serves no purpose to the plot. Valentine making eyes and friends with Maya is extraneous. In fact, every scene with Valentine at work—with or without Maya—could be cut as not pertinent. Far too many side characters are given history, considering they do almost nothing but cook and eat during the course of the book. None of this excess is neutral. It all dilutes the already thin plot until what is left feels random, disconnected, and all but plot-less.
There are also too many references to things that aren't expanded on. It made it feel certain there must be another book somewhere, though, as far as I know, there isn't. Too many characters randomly introduced, even very late into the story.
The story has promise and if it had been given to a ruthless content editor with a scalpel, it could have been something worth reading. Instead, it feels like it's written by a teen. A teen with a firm grasp of grammar and syntax, true, but a teen all the same. (I'm not saying it was. I don't know anything about Kallan. I'm just saying it feels that way as a descriptor.) It's in the shallow use of villainy, the frequent use of sexual assault, misogyny, and lasciviousness to signal evil or even just badness, the characters with a single emotional note, the Whedon-esque banter, the unsupportable wealth and technology of the fae had, etc.
Honestly, I would have DNFed it if I hadn't accepted if for review.
I did appreciate the diversity (racial and sexual) of the cast (including two bi/pan-sexual main characters) and, as I said, the writing itself wasn't all that bad. There's some odd use of language, dodgy phrases, and the dialogue gets pretty clunky and stiff at times. Plus, the editing starts to flag in the last half—especially in terms of missing words, and in/on being confused. But the writing itself is readable.
All of the above is obviously just my opinion. Other people have given this book 5 stars. So, I suppose the best thing to do is decide where your own line and tolerance for such things lie and read the book or not.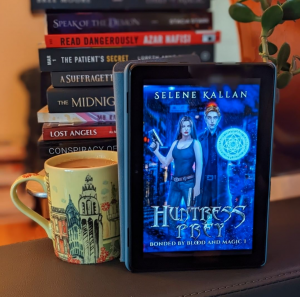 ---
Other Reviews:
Eye Rolling Demigod: Blot Tour Huntress Prey
What's Beyond Forks: Book Review Huntress Prey
---