It's official I love my library. Ok, I love libraries in general, it's not necessarily that my library is all that much more impressive than most. But I love going to the library and I did so today.
Now, I occasionally write these little library posts so people know why my blog stalls for a week or so. I predominantly read & reveiw indie books, but every once in a while I get a hankerin' for some traditional publications or to catch up on a series I started and never came around to finishing. This is what pulls me towards my library and away from the ~3,000 indie books I have at my fingertips. But I don't always bother with reviews for these books. Honestly, if Hachette Publications puts a book out I may read it, but probably not when it's new and probably not before it has 5,000 reviews. So, unless I have something significant to say, I just don't bother. As a result, library trips often coincide with a temporary reduction in blog posts. So, let this serve as official warning that posts may lag.
What did I get, today? This year, one of my reading goals is to try clearing off some of the books that have been on my TBR for a long time. With this in mind, I took the time to go through my Goodreads Please-Lend-Me shelf and requested any of the books that were on it and available from my library. There weren't that many of them, again, I read mostly indie, which my library carries few of.*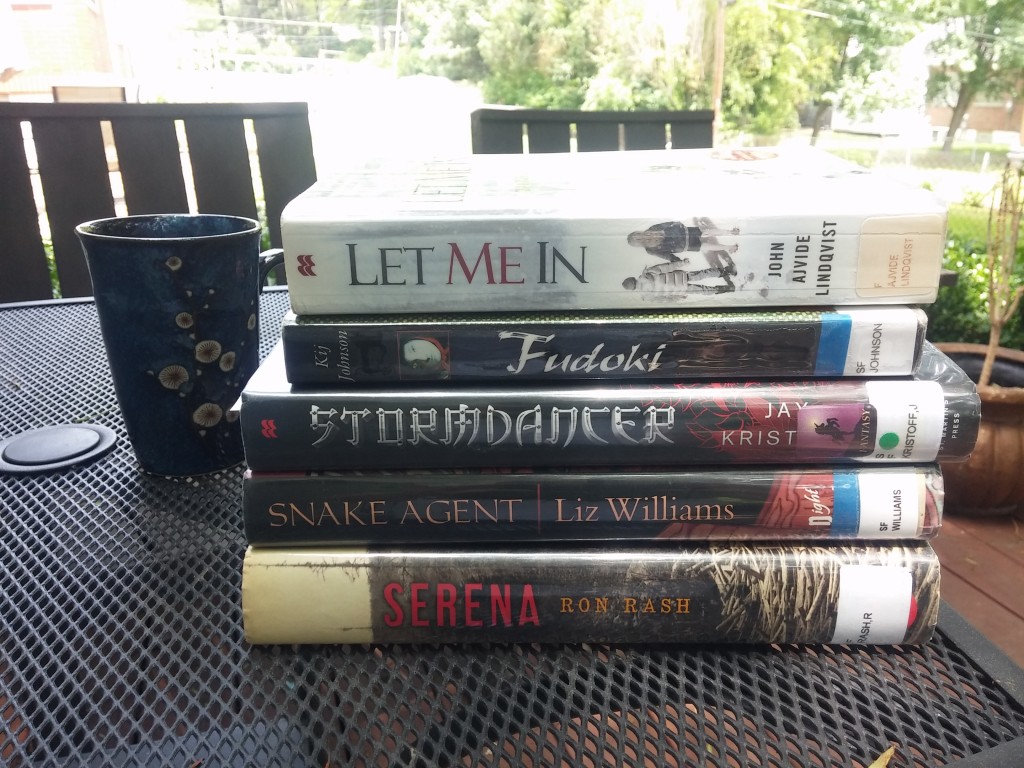 But I did manage to snag John Ajvide Lindqvist's Let Me In (which has been on my list since I joined Goodreads in 2012), Kij Johnson's Fudoki (also Feb 2012), Jay Kristoff's Stormdancer (Feb 2013), Liz Williams' Snake Agent (July 2014) and Ron Rash's Serena. (The last one because I've joined a real-world book club—yes, wine, mojitos, appetizers, chatty well-read women, it's great—and this is our book of the month). I also requested William Goldman's The Princess Bride and George R. R. Martin's Fevre Dream (so I can sample his writing without committing to the Song of Fire and Ice series). These last two however are checked out, so I'm on the waiting list.
It's a couple thousand pages, all in and I may or may not review them all. So, again, be forewarned that there may be a week and a half or so pause in blogging on my end.
But access to free books isn't the only reason I love my library. They have a ton of free activities for both kids and adults—classes, book signings, book discussions, movie nights, story time, lego mania, Minecraft events, concerts, etc.— there are just a ton of things happening. (Seriously, if you've not checked out your library, you should.)
My favorite of the moment is the summer reading challenge. Granted, I originally only signed up for this to do it with my seven-year-old, who loves books but struggles with reading. I thought if we did it together, she might feel encouraged. And she likes the idea of winning a prize for doing 500 minutes of reading over the summer, sure, but it's me that's really taken to the idea.
Now, I don't care about the prizes. I don't even know what's on the table, or even if it's a prize or drawing or something else. What I love is that, as an adult, I have to list the books I read to qualify. And surely, SURELY the library takes advantage of the fact that their members are telling them, in real time, what they are reading and uses this conveniently collected data to determine what sorts of books to order in the future.
And that matters to me. My library is a member of a consortium in which anyone from any of several libraries can request books from other consortium libraries. And at least 2/3 of the books I request come from one branch of that consortium (University City). The members in that community must have reading tastes more similar to mine than my local branch (or at least someone in the ordering department does).
My point is that I've taken to the idea of letting my local library know exactly what I'm reading in the hopes that it will encourage them to order more books in the genres I read a lot of. We have a pretty strong fiction and biography section, but other than new releases of popular series, I have a hard time finding much good Urban Fantasy. I enjoy a good PNR and am currently ga-ga over M/M & (to a lesser degree) F/F romance, but am not a fan of contemporary romances, only the last of which my library seems to carry many of. Not to suggest they have none, but I have to work pretty hard to find them. Undoubtedly, this is all the result of the fact that my community has historically, I think, had an older population.
Anyhow, at this point I'm basically just squeeing over my trip to the library. I encourage everyone to get out there and visit their own.
*Hey library people, I know funds are limited and books are chosen carefully, but might I suggest some Leigh Parker, Alexis Hall,  Maya Lassiter, Jordan Castillo Price, Michael McClung, C. Lynn Murphy, Sera Ashling, Giacomo Giammatteo, K.J. Charles, Andrea Speed, J.L. Merrow, Vaughn R. Demont, A.J. Aalto, Lindsay Buroker, Rebekah Turner, J.L. Murray,  Angela Roquet, Harper Fox or Mary Holland. These are just some of the ones I've read and loved in the last year or two. The list is a bit biased toward genres I read a lot of, but all worthy reads from indie authors.