I accepted a review copy of Intergalactic Exterminators, Inc by Ash Bishop through Turn the Page Tours. It was also featured over on Sadie's Spotlight.
Finding work is easy. Staying alive is a little bit harder.
When Russ Wesley finds an unusual artifact in his grandfather's collection of rare antiquities, the last thing he expects is for it to draw the attention of a ferocious alien from a distant planet. Equally surprising is the adventurous team of intergalactic exterminators dispatched to deal with the alien threat. They're a little wild, and a little reckless. Worse yet, they're so impressed with Russ's marksmanship that they insist he join their squad . . . whether he wants to or not.
---

As is so often the case with books I neither love nor hate, I had mixed feelings about this book. It started off really strong. I was interested in the characters and the emerging plot—real what will happen next territory. Unfortunately, the book quickly lost that initial bust of energy.
Instead of Russ going to space and having the adventure I was hoping for, the book spends quite a lot of time diddling its thumbs with earth-side drama. Then, once he (and Nina) finally make it to space, there's no single, coherent plot to follow. Instead there's a series of episodic mini-adventures that wash and repeat until the book ends…and I can see it picking right back up with more of the same too.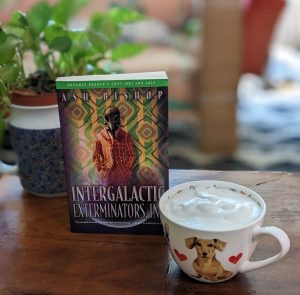 Now, the writing is pretty good and I think Bishop managed to avoid some of the most common action-hero pitfalls. Not every female in the book threw herself at him, for example. (There was one moment I thought Bishop was going in that direction and I got cranky about it. But I was given a reprieve from having to read another such scene, thankfully.)
All in all, I'll call this a middle of the road (for me) read, with the caveat that I bet it will find it's audience and do well.
---
Other Reviews: