I didn't think I'd squeeze one more book into 2020. But I did…just barely. In fact, I'm cheating a little. I read ~75% of this in 2020 and the last ~25% (roughly 2 hours worth) past the midnight deadline. (I'm sure it was still 2020 somewhere though, right?)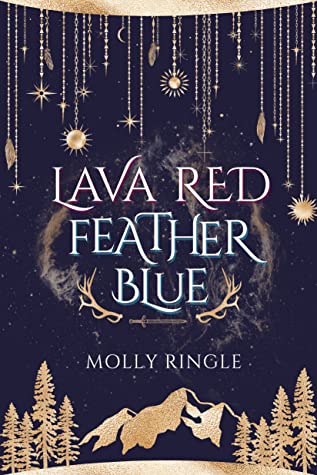 I received a copy of Lava Red Feather Blue, by Molly Ringle, through Netgalley. I've actually held on to it a surprisingly long time, waiting to review it a little closer to the 2021 publication date. It felt like a good book to end the year on.

Blurb:
Awakening the handsome prince is supposed to end the fairy tale, not begin it. But the Highvalley witches have rarely done things the way they're supposed to. On the north Pacific island of Eidolonia, hidden from the world by enchantments, Prince Larkin has lain in a magical sleep since 1799 as one side of a truce between humans and fae. That is, until Merrick Highvalley, a modern-day witch, discovers an old box of magic charms and cryptic notes hidden inside a garden statue.
Experimenting with the charms, Merrick finds himself inside the bower where Larkin lies, and accidentally awakens him. Worse still, releasing Larkin from the spell also releases Ula Kana, a faery bent on eradicating humans from the island. With the truce collapsing and hostilities escalating throughout the country, Merrick and Larkin form an unlikely alliance and become even unlikelier heroes as they flee into the perilous fae realm on a quest to stop Ula Kana and restore harmony to their island.

Review:
On the whole, I enjoyed this. I thought it was a sweet story with several important themes and moral quandaries to consider. I very much liked both Larkin and Merrick (as well as Merrick's family). There was admirable representation and little angst about any of it, letting human/fae relations stand allegorically in place of some important human/human biases. It worked and was a pleasure to read.
I did think the whole thing too long and the Hero's Quest plotting a little too apparent. There is a certain plodding, first we do this, then we do this next thing, and then we do the next thing, each progressively harder; the villain only showing up at the beginning or end of each stage, such that they never felt truly threatening, etc.
I did read a per-publication ARC, which means the book hadn't had it's final edit. So, I can't speak to editing. All in all, however, I'd be more than happy read more of Ringle's writing.