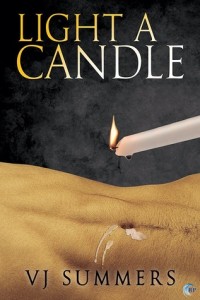 I received a copy of Light a candle, by V. J. Summers from Netgalley.
Description from Goodreads:
Will broke Dusty's heart their senior year. One unexpected moment of passion between them, and Will freaked out. Not only wasn't he gay, but he wasn't kinky either—or so he insisted to Dusty. Their long friendship ended, and Dusty was left with only bittersweet memories of their last movie night together.
Ten years later, out as gay and a Dom, Will auditions for membership at Club Deviant, only to find that he's been assigned an all-too-familiar submissive. His scene with Dustin feels like fate, and he's determined to get back what they once had—and more.
Dustin had buried the pain of rejection deep, but playing with Will conjures all his memories of that one electric moment they shared and the friendship it destroyed. He's built walls around his heart high enough to keep out the Trojan Army, but together, he and Will may find the courage to move beyond their past and face their future together.
Review:
OK, to start with, until I sat down to write this review I didn't realize this was a fourth book in a series. I would never have picked it up if I had. I generally avoid latter books in a series, even if they are stand alone. But it's read now and, who knows, maybe I would have liked it better if I'd read the previous three books. Maybe not, because I don't know that my complaints resulted from anything related to the series itself.
Now, I don't want to infer that I didn't like the book, just that I had complaints. First, the characters are paper thin. Seriously, with the exception of the flashbacks, over the several weeks of the book, we don't get a single scene outside the club. So, the book is wholly focused on Will's pursuit of Dusty and Dusty's avoidance of giving in. Meh.
Second, I didn't think what happened between the two as teenagers deserved all that much angst. It just wasn't that big a deal. They certainly never had a relationship, so claiming Dusty's heart was broken seems a little extreme. We're told they'd been friends for years, but we're given one scene in which Dusty awkwardly invites WIll over to his house, as if they're just becoming friends. I didn't buy it.
Third, I get that wax play was supposed to be a big part of this, thus the title. But almost every single sex scene was a wax play scene. For an elite BDSM club they seem to have a very limited repertoire. The thing is, even if I found it super sexy, I'd have been bored with it. But really I thought it was pretty bland, especially Will and Dusty's big climax scene. Meh.
I hated the Dom-talk. Why do all Doms in these sorts of books have to talk in stiff, complete sentence, call every one 'boy' (which just squinks me out, like something that should be uttered only in Deliverance) and never use contractions. Meh.
So, in conclusion, while this was an ok book and some people might be thrilled with it, I remained only mildly interested throughout.