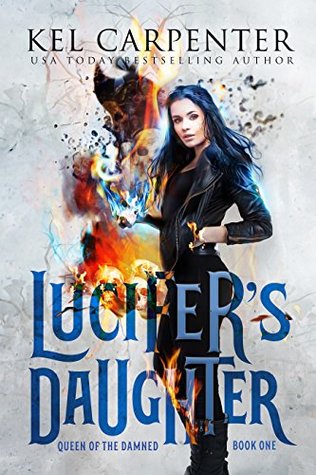 I picked up a copy of Lucifer's Daughter, by Kel Carpenter from Amazon on one of it's freebie days.

We've all heard the story of the Four Horsemen. Harbingers of the apocalypse. Destruction given form. Four of the sexiest—wait no—forget that. You get my point.
So imagine my surprise when I find out everything I've ever been told, is a lie.
But we're getting ahead of ourselves here. Let's start from the beginning.
My name is Ruby Morningstar. I run a tattoo parlor in Portland with my bestfriend, have a pet raccoon, a crazy ex that stalks me, not to mention this one little thing… I'm a demon. Half-succubus, to be exact. For the last twenty-three years of my life, that's the story I believed, but on the day a handsome stranger bails me out of jail my world is turned upside down, and suddenly I don't know who I am anymore.
Because the Four Horsemen aren't the bringers of the apocalypse.
I am.
Talk about never catching a break.

I'm going to start off by stating the obvious. Having a female main character who every man wants sexually and isn't safe to leave her home without someone trying to rape her is beyond painfully cliched. I mean eye-rollingly, seen it a bazillion time cliched. I know there's no true new idea under the sun, but this has to be one of the most common ever written. So, color me unimpressed with it.
However, outside of that, I liked Ruby as a character. I liked the horsemen, the best friend and even the crazy racoon. The book does end just about the time it gets truly interesting, making it feel more like a serial than a series (and I hate that). But I'd be willing to read more. It's flawed but also fun.