I received a copy of Mated to the Monster, by Sarah Spade. I can't quite recall if I won it or if the author was just offering review copies. Either way, I ended up with a copy.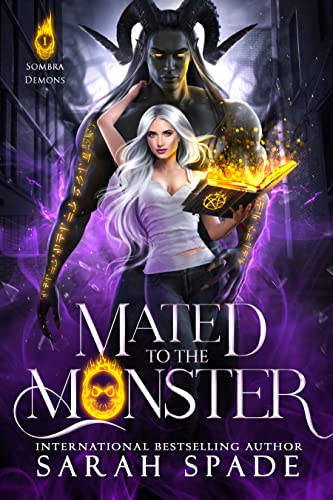 I really should've known better than to play around with that old book of spells…
How was I supposed to know that the incantations scrawled inside of it worked? That the first one I read would open a portal into a demon plane — or that the next one was an unbreakable vow to the seven foot tall shadow monster I unwittingly summoned into my bedroom?
He says his name is Malphas, that he's something called a Sombra demon, and I'm his mate.
Monster, demon… whatever he is, his muscles are bigger than my head, and that club between his legs… I don't know if mate means the same thing to him as it does me, but he's gotta be kidding.
Spoiler alert: he's not.
Mal has been waiting for more than a thousand years for the one woman meant for him. He's convinced that's me, and he's willing to do anything to prove it. And maybe there's something really wrong with me because, before long, I find myself eager to let him try…

This was silly, fluffy, fun. Which was honestly all I was looking for from it. I wasn't expecting anything deep or meaningful. Granted, it wasn't anywhere near as spicy as I'd anticipated, mid-heat at best. And I did think it slipped over into the ridiculous on occasion. But Mal was super sweet (no alpha-ahole here), I like Shannon well enough, and the world/over-arching plot seems interesting. I'd read another in the series.
---
Other Reviews: