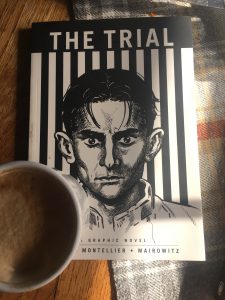 This was something a little different. I stopped at a local coffee shop, The Webster Groves Garden Cafe, and they had The Trial (Illustrated Classics): A Graphic Novel
on the shelf. On a whim, I picked it up and gave it a read while I drank my latte. No real thought or planning went into the decision, it was just there and I read it rather than the proverbial cereal box.
Description from Goodreads:
"Someone must have been slandering Joseph K, because one morning, without having done anything wrong, he was suddenly arrested."
The Trial is a graphic adaptation of Franz Kafka's famous novel, illustrated by one of France's leading graphic artists, Chantal Montellier. Montellier brilliantly captures both the menace and the humor of Kafka's utterly unique masterwork. This darkly humorous tale follows Joseph K, who is arrested one morning for unexplained reasons and forced to struggle against an absurd judicial process. K finds himself thrown from one disorientating encounter to the next as he becomes increasingly desperate to prove his innocence in the face of unknown charges. In its stark portrayal of an authoritarian bureaucracy trampling over the lives of its estranged citizens, The Trial is as relevant today as ever.
Review:
I've come to the conclusion that graphic adaptations of books, even famous books, just shouldn't be read unless you've read the original. They make great accompaniments, but never seem to stand on their own. This one is no different. It has a distinct style and you get a sense of the story, but it doesn't really give you enough meat to truly understand the it. As something I picked up on a whim, while sitting in a coffee shop, it did the job of keeping me from being bored and I don't regret reading it, but I can't say it really impressed me much.