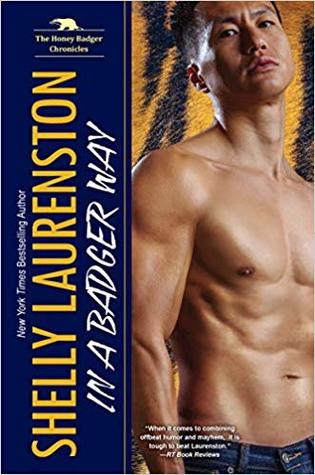 I borrowed a copy of Shelly Laurenston's In a Badger Way from the local library.
Description from Goodreads:
Petite, kind, brilliant, and young, Stevie is nothing like the usual women bodyguard Shen Li is interested in. Even more surprising, the youngest of the lethal, ball-busting, and beautiful MacKilligan sisters is terrified of bears. But she's not terrified of pandas. She loves pandas.
Which means that whether Shen wants her to or not, she simply won't stop cuddling him. He isn't some stuffed Giant Panda, ya know! He is a Giant Panda shifter. He deserves respect and personal space. Something that little hybrid is completely ignoring.
But Stevie has a way of finding trouble. Like going undercover to take down a scientist experimenting on other shifters. For what, Shen doesn't want to know, but they'd better find out. And fast. Stevie might be the least violent of the honey badger sisters, but she's the most dangerous to Shen's peace of mind. Because she has absolutely no idea how much trouble they're in . . . or just how damn adorable she is.
Review:
This was really just horrible: juvenile, stupid and basically plotless. I could give it credit for being grammatically sound and edited, but I had to force myself to finish it. So, I'm not going to encourage this puerile idiocy. There were far too many jokes about farting on people, dog shits and releasing anal glands. I want to ask if the author thinks her audience is 12; but the book has lots of good reviews. So, someone somewhere likes it. Just not me.
I admit I got the occasional chuckle, and I suspect a lot of what made me grit my teeth at the ludicrously over the top antics of this group was probably also meant to be funny. But I just wanted to ask if no one in Laurenston's professional life is able to reign her in just a little bit. The petite woman doesn't just shift into a large tiger/honey badger. No, she shifts into a TWO TON animal. No one is just smart or talented, everyone is a GENIUS or a PRODIGY. Stevie doesn't just have anxiety, she has a crippling phobia of a certain sort of shifter (that doesn't even make sense in context). There is no spark between the H & h. She just decides they are together and he spends the whole book saying they're not, until they have sex and then he stops and they're together.
I love a bit of humor in my PNR. I abhor a slapstick collection of too-dramatic-to-believe schticks. AND THAT'S ALL THIS BOOK IS.