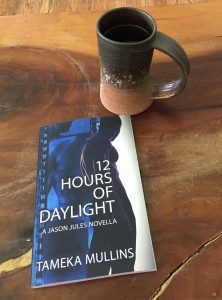 I won a copy of Tameka Mullins' 12 Hours of Daylight through Goodreads:
Description:
He pops like nobody's business… 
Jason's got it all: beautiful women, fast cars and piles of cash. With a job that literally keeps him up all night, this Channing Tatum lookalike is living the X-rated Hollywood dream. Any twenty-two-year-old guy would jump at the chance to star in Jason's life…except Jason. 
…when he's not playing Pops in real life. 
All in one night, Jason became a father and lost the love of his life. Vickie, his chocolate princess, isn't looking down from heaven with pride, though. What started as an unconventional way to pay the bills has devolved into an obsession and an escape from crippling guilt. 
Raising twins alone is a full-time job, but with no other options, Jason doesn't have a lot of time to look for a way out. Yet it all comes crashing down one night when the sometimes dangerous, addictive world of porn collides with the pressures of fatherhood. As Jason's dreams spin out of control, he'll have to make some changes in his life or risk losing everything he's already sold his body to hold onto. 
Review:
Awesome cover, interesting idea, but not well executed. I generally hate the dictum to show not tell. I think it's overused as a critique. But there is no getting around the fact that stories that are predominantly written in 'tell' are harder to connect to. Sometimes there are enough other elements to overcome this, usually there isn't. Here, in 12 Hours of Daylight, being a novella, there is almost nothing. Which means I never felt connected to Jason and we're not given any other characters to even try getting to know. Even at the point where Jason needs advice, he calls in an old friend that the reader doesn't know, who then basically disappears again.
All this combined with the stiff dialogue (names are used far too often) creates a story that feels like it's being blandly recited, with Jason's porn gigs functioning as an excuse for some menage type sex scenes that contribute little to the already thin plot, spicing things up. There is a minor upheaval and then everything miraculously fixes itself off-page and the reader is told about it after the fact.
All in all, I think this really could have been something special.  As is, it's not bad.  I liked the inter-racial aspect of the relationships. I liked the narrative voice. But I think it needs a lot more to really catch a readers attention.
---
What I'm drinking: Regular old Bigelow Chinese Oolong Tea. It's my go-to cuppa. But honestly, not long after I took that picture, I realized I was wasting a beautiful day and took myself outside to read in a lawn-chair with a ginormous bowl of buttered popcorn. Ahh, spring!