I borrowed a copy of Tammy Blackwell's A Dance Like Flame from the local library.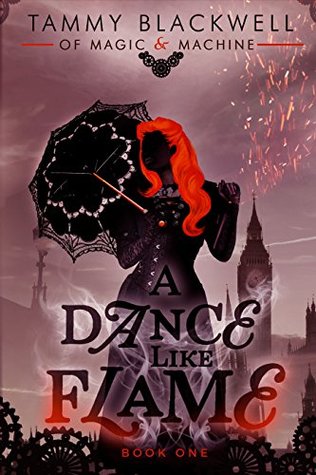 Description from Goodreads:
Unmarried at the age of six-and-twenty, Lady Elizabeth "Bits" Warner has become a burden to her family. Therefore, she isn't surprised when they pack her on a train bound for Scotland and a fiancé she has never met. She's not surprised, but she is terrified.

In Corrigan, a walled-off city that serves as refuge to those capable of using the aether to cast spells and concoct potions, Ezra Nash is devoted to healing the sick and injured. Between his work as a surgeon and caring for his sisters, he doesn't have time for distractions.

When the train Bits is traveling on explodes, she finds herself inside the gates of Corrigan and under Ezra's care. The two are drawn to one another, but it will take more than attraction to overcome the difference in their stations and the secrets they hide from the world.
Review:
I didn't dislike this. I just felt like it had so much more potential than it lived up to. There were many moments I felt there must be a previous book because the story felt built on something the reader didn't have access to. The hero's resistance seems forced and then his sudden turn around seems out of nowhere. The villain is a caricature and his ultimate goal isn't even revealed in this book, nor is the purpose of the event that brought the heroine to faery land in the first place. And it felt a bit like the author just brought in whatever elements she wanted willy-nilly. It felt disjointed.

Having said all that, I appreciated that the couple was a little older than normal. The blend of fantasy and aether-punk is interesting. And the diversity was welcome. I'd read more of the series. But I'm not in any hurry about it.