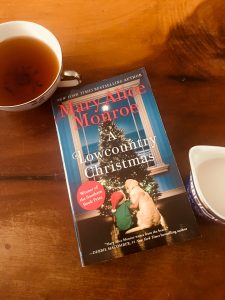 A couple weeks ago, I did a Christmas Challenge. I read the four paperbacks that had been languishing on my shelves because they were all Christmas novels. I figured what better time to get them read? I finished it and, low and behold, another one landed on my doorstep. I won Mary Alice Monroe's A Lowcountry Christmas through Goodreads. Again, I figured there was no better time to get it read that Christmas Eve.
Description:
As far as ten-year-old Miller McClellan is concerned, it's the worst Christmas ever. His father's shrimp boat is docked, his mother is working two jobs, and with finances strained, Miller is told they can't afford the dog he desperately wants. "Your brother's return from war is our family's gift," his parents tell him. But when Taylor returns with PTSD, the stress and strain darken the family.
Then Taylor's service dog arrives—a large black Labrador/Great Dane named Thor. His brother even got the dog! When Miller goes out on Christmas Eve with his father's axe, determined to get his family the tree they can't afford, he takes the dog for company—but accidentally winds up lost in the wild forest. In the midst of this emergency, the splintered family must come together and rediscover their strengths, family bond, and the true meaning of Christmas.
Review:
For those who enjoy this sort of book, I imagine this will be a winner. Personally, I gave it a shot, but I call this sort of book Misery Porn. Yes, there is a happy ending and you get a taste of it in the prologue to know it's coming. But the whole rest of the book is people being miserable.
I can sense Monroe had a good intent. She obviously wanted to inform readers about PTSD and the healing powers of service dogs. But the book often felt didactic and I felt the 'healing' happened too abruptly.
Further, I had a hard time buying into the whole, "The splintered family must come together to rediscover their strengths, their family bond, and the true meaning of Christmas." when the father is so obviously left out of the equation. He's the only family member without a POV and until you're supposed to go "awww" and believe everything suddenly happy he's the antagonist of the book.
The writing however is perfectly readable and the book seems well-edited. I honestly think this is just a matter of wrong book for the reader. But it's Christmas Eve and I wanted to read a Christmas book.