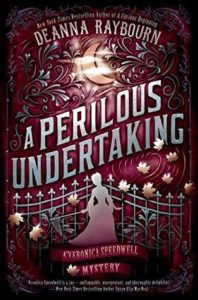 I received a copy A Perilous Undertaking, by Deanna Raybourn, from First To Read. I read and reviewed the first in the series, A Curious Beginning, last month.
Description from Goodreads:
London, 1887 . . Victorian adventuress and butterfly hunter Veronica Speedwell receives an invitation to visit the Curiosity Club, a ladies-only establishment for daring and intrepid women. There she meets the mysterious Lady Sundridge, who begs her to take on an impossible task saving society art patron Miles Ramsforth from execution. Accused of the brutal murder of his artist mistress Artemisia, Ramsforth will face the hangman's noose in a week s time if Veronica cannot find the real killer. 
But Lady Sundridge is not all that she seems and unmasking her true identity is only the first of the many secrets Veronica must uncover. Together with her natural historian colleague Stoker, Veronica races against time to find the true murderer a ruthless villain who not only took Artemisia s life in cold blood but is happy to see Ramsforth hang for the crime. 
From a Bohemian artists colony to a royal palace to a subterranean grotto with a decadent history, the investigation proves to be a very perilous undertaking indeed….
Review:
I liked this second book in the series more than the first. Most of the aspects of book one that annoyed me were not present here and I really loved the friendship and relationship that has developed between Veronica and TV.
This book however found a whole new way to irritate me. Mainly by trying to present Veronica as worldly and sexually explorative, experienced even, while also trying to make her some appear as an ingénue. It was mostly used to play off TV's discomfort for comedic effect. Except it really didn't work. Plus, so very many of the women in the book make constant off color remarks and the whole plot revolved around Bohemian relations that I felt sex as a whole was made into a joke. It grated on my nerves like the cheap, easy jab it was. Low hanging fruit rarely feels worth the effort.
For all that, I did enjoy the story, the mystery and the characters pithy back and forwards wit. I'd be glad to read the next in the series.