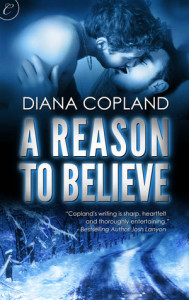 I bought a copy of A Reason to Believe, by Diana Copland.
Description from Goodreads:
Detective Matthew Bennett doesn't believe in ghosts. So when the spirit of a murdered child leads him to her body, he's shaken to the core—and taken off the case. Unable to explain his vision, or to let go of the investigation, Matthew turns to renowned medium Kiernan Fitzpatrick. Though he has doubts about Kiernan's claims to communicate with the dead, Matt is nevertheless drawn to the handsome psychic, who awakens feelings he thought were long-buried.
Haunted by the lingering spirit of the little girl, Kiernan is compelled to aid in the search for her killer. The chance to get closer to the enigmatic Matt is an unexpected bonus. Although Kiernan's been betrayed by people who turned out to be more interested in his fame than in himself, with Matt he's willing to risk his heart. As the two men grow closer, Kiernan helps Matt rediscover that life offers no guarantees—but love offers a reason to believe…
Review:
This was an upper-middle of the road read, meaning I didn't love it but I was perfectly satisfied by it. I like Matt's character quite a bit. I tolerated Kiernan. He was basically just too over the top and grated on my nerves. I can't even count how many perky, puppy-like bottoms I've encountered in m/m romances, but he just felt like one more of the same.
I'll say the same for the token female BFF. They only seem to come in one of two designs, total biyatch or mouthy and nosy, but well intentioned. Sheila fell into the latter category. Meh.
As for the mystery, it was ok. I figured the basics of it out pretty early but was more than happy ride it out and learn the details. Unfortunately, three things annoyed me about it. One, there seemed to be quite a few convenient coincidences. For example, in a town of half a million the token BFF happens to be friends with the single person who can provide them the single piece of the puzzle they don't even know they're missing and just happens to think to speak to her. Ummm?
Two, Matt and Kiernan go about doing a lot of stupid stuff to figure out who the murderer is and exonerate the wrongly accused man. But nothing they do is anything they can take to the police, so it's all basically pointless in the grand scheme of things. Three, the six-year-old ghost is way too smart for her age and Kiernan pretty much said they go into the afterlife with the understanding of their living selves.
The romance was also ok. I liked it well enough, but nothing about it wowed me. It was nice seeing Matt reemerge from his grief. (The scene with the flag at Brad's funeral almost brought me to tears.) But the way Kiernan threw sexual innuendo in all the time just got annoying.
All-in-all, it was a fine read. I even liked it. But by next week I probably won't even remember reading it.