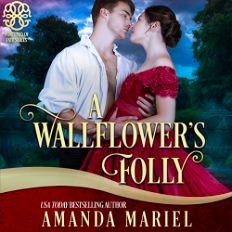 I received an Audible code for a copy of Amanda Mariel's A Wallflower's Folly.
Description from Goodreads:
A headstrong wallflower…
Lady Olivia Montague's betrothed has ignored her and their contract for years. In the meantime, she has decided to remain unwed, embracing the life of a spinster. The last thing she expects is for her betrothed to come storming back into her life.
A Determined Duke…
Following the death of his parents, William Breckenridge finds himself as the Duke of Thorne and in charge of his three younger sisters. He needs help in the form of a mother and guide for his siblings. Lucky for William, he's already betrothed. All he need do is collect his future duchess.
An unstoppable love…
William and Olivia engage in a battle of wills, but the more she resists and he pursues, the more their passions flare. Once the heart is engaged, resistance becomes difficult, but will they give into happily ever after?
Review:
This book and I had problems, the most grievous of which was the fact that I was indignant on Olivia's behalf for the entire book. Their marriage was arranged when they were children. Then, he disappeared for 15 years without so much as a word. But when he needed a woman to do womanly things in his life, he showed up—a perfect stranger—to take the tool off the shelf and demands she honor the agreement (because she's convenient). Until that point he hadn't honored it, but despite her protests that she did not wish to marry him, he demanded she would.
Given these circumstances I was even more indignant that he liked and was attracted to her. He got to ignore her for as long as he liked (injuring her in the process) and then gets a pretty and amusing wife out of the deal. While she got ignored and then forced into a marriage she didn't want. Oh, how men always get their cake and to eat it too, while women eat crow, apparently. The fact that she gave in as soon as he said the magic three words enraged me further still, if you'd believe that possible. As if all it takes to make a woman who doesn't desire marriage desirous of it is to be chosen by a man. Seriously, fuck off.
Also, the whole premise of the book is how long the Duke 'left her on the shelf' before coming to claim her (and she's meant to mother a 19 and 20-year-old.) So, she must be above average age for a marriageable woman. Yet, neither of her BFFS appear to be married either and she acts like a complete child.
Lastly, a comment on the editing/narration. Since I had an audio copy, I don't know where the errors originated (from the author or the narrator), but there were several misused words/grammar errors. And while as an American I'm no expert on English accents, I rather suspect this narrator's accent (with her Vs for Th, for example) did not even approximate an aristocratic English accent. Rather like hearing a book set in the Bronx read in a Southern accent, for us Americans. Not bad, but a little jarringly out of place. Presumably more so for those from that part of the world.
I'd likely give this author another chance. But this book was a bust.