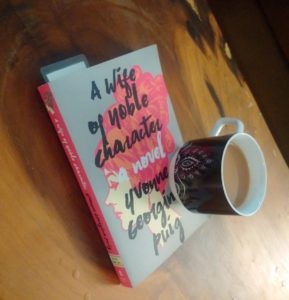 I won an ARC of A Wife of Noble Character, by Yvonne Georgina Puig, through Library Thing.
Description:
Thirty-year-old Vivienne Cally is wealthy in name only. Orphaned as a child and raised by a cold but regal aunt, Vivienne was taught to rely on her beauty and Texas tradition, and is expected to marry a wealthy and respectable man who will honor the Cally name. Friends with Houston's most prominent families, she's a beloved fixture at social events, and suffers no shortage of access to the city's most eligible bachelors. Preston Duffin has known Vivienne and her set since childhood, though he's never shared their social aspirations or status. About to graduate from a prestigious architecture program, he is both fascinated and repelled by this group of friends he sits on the cusp of. He's long admired Vivienne's beauty, but isn't sure he holds any place in so traditional a life. Intrigued by the extent to which Preston challenges the only way of life she's ever known, Vivienne both courts his attention, and rebuffs his critiques of her antiquated values.
Review:
Lordy, I struggled with this one. I set it aside so many times. In fact, I read five other books between starting it and finishing it. I'll say up front that I felt it redeemed itself in the end, but for most of the book I could not relate to Vivienne. I disliked her intensely.
I understood what Puig was highlighting with the positions Vivienne found herself in and the way she thought and what she did to survive, but it all made my skin crawl. It's the sort of feeling I actively avoid in my life, so it was very hard for me to face it through Vivienne.
However, the writing is beautiful. The characters are ones you'll recognize, even as you hate them. And, as I said, I liked the end.
---
What I'm drinking: What the English might call Builder's tea. One inexpensive bag of black tea, quite strong and a dash of milk. This is one of my comfort drinks. These days, I'm often off dairy. So, I don't drink it as often. But for pure, melt into the couch relaxation, it's my go-to drink. Or, as the case may be, while reading books that depress me.