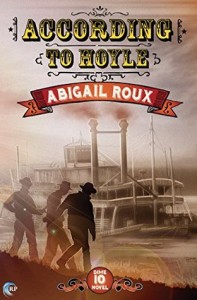 I received a copy of According to Hoyle, by Abigail Roux, from Netgalley.
Description from Goodreads:
By the close of 1882 in the American West, the line between heroes and villains is narrow. Total chaos is staved off only by the few who take the law at its word and risk their lives to uphold it. But in the West, the rules aren't always played according to Hoyle. 
US Marshals Eli Flynn and William Henry Washington—longtime friends and colleagues—are escorting two prisoners to New Orleans for trial when they discover there's more than outlawry to the infamous shootist Dusty Rose and the enigmatic man known as Cage. As the two prisoners form an unlikely partnership, the marshals can't help but look closer at their own. 
When forces beyond the marshals' control converge on the paddle wheeler they've hired to take them downriver, they must choose between two dangers: playing by the rules at any cost, or trusting the very men they are meant to bring to justice.
Review:
I quite enjoyed this. I don't read many Westerns, so it was a change of pace for me. I liked Flynn's flustered, brash personality; Wash's laid-back outlook; Gabriel's cocky charm and Cage's silent, honourable atonement. I like that, though this is a romance, it's not particularly romantic. I liked the witty back and forwards banter and the writing style in general.
However, I also thought that having two romantic pairings diluted the plot. As funny as Flynn and Gabriel's sniping was, it got old. Wash's character was never particularly developed. He seemed to exist solely for Flynn to quietly long for. And after finally acting on their feelings after platonic decades together, I would have like at least conversation about it.  I also found Cage inconsistent. He spent 2/3 of the book so quiet and honourable that he almost felt child-like. Then in the last 1/3 he was made out to be all sorts of bad to the bone. It didn't feel like the same man.
I'm assuming this is the first in a series, as it concludes with an open ending.  I'm not head over heals in love with the book, but I'd be more than happy to pick up a sequel. It's a serious case of good enough.