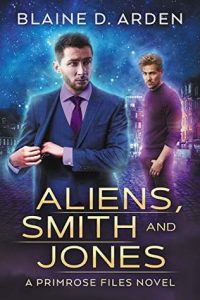 I received a copy of Blaine D. Arden's Aliens, Smith and Jones through Netgalley.
Description from Goodreads:
Working for a secret organisation specialising in alien cover-ups, Connor Smith is no stranger to the abnormal or dangerous. His love life on the other hand… not so exciting. Until he reluctantly agrees to a blind date and meets the perfect bloke, Jason.
Things are finally falling into place for Connor, so of course that's when he attracts an alien stalker.
Noah Jones, ex-alien, has been stranded on Earth and forced to live as a human since 1648. Alone and detached from the world around him, Noah has spent centuries observing and recording humankind. In all that time, he's only experienced a connection with a human once… until he finds Connor.
Even knowing Connor is in a relationship, Noah can't ignore their potential bond, or stay away.
While dealing with missing alien artefacts, a dangerous and shadowy group of collectors, and the ever-present Noah, Connor finds his orderly life crumbling around him. At least he still has the perfect boyfriend…
When Noah goes missing, Connor is forced to face the feelings growing between them and the mounting evidence that Jason isn't who he says he is…
Review:
I suppose this was ok. It was just painfully predictable, with basic, unexciting writing. The characters were cute, but one of the main characters spent half the book in a relationship with someone else and I barely felt any spark between him and the second main character. Further, there was just too much assuming and non-communicating going on. In fact, a lot of the book is predicated on it and it didn't make any sense to me. All in all, I found the whole thing uninspiring, even if not quite bad.