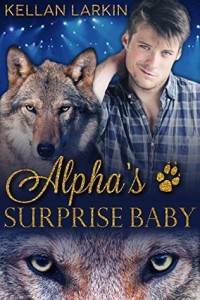 I picked up a copy of Alpha's Surprise Baby (by Kellan Larkin) from Amazon, when it was free. It was still free at the time of posting.
I'm currently reading all the books on my shelves that have Alpha in the title. I did all the Omegas a couple weeks ago and it didn't feel complete, so I tagged this second phase onto the challenge.
Description from Goodreads:
His blonde hair, the colorful tattoos on his porcelain skin, and his sparkling amber eyes were all intoxicating, conspiring to create a man who I couldn't get enough of.
Kade's an Omega wolf who just happens to be a rock star. But when his second album is released to terrible reviews, he loses all his enthusiasm for going on tour. That changes when his newly hired bodyguard turns out to be his fated mate.
Alpha Xander is thrilled to have found the man he's going to spend the rest of his life with. But he's still healing from the pain caused by a cheating ex. When Kade gets pregnant, he has to step up and become the father his new baby needs.
Through a stressful tour, a heartrending kidnapping, and a thrilling rescue, Kade and Xander find that their love is tested beyond belief. Will the bond of the fated mates stay true?
Find out if they'll find their happiness in this standalone novella with a HEA. No cheating, no cliffhangers. Inside, you'll find a precious shifter baby and plenty of sugar and spice.
Review:
Wow, you guys, that was bad. I mean really, really bad. The mechanical writing is surprisingly good. There's the occational editing error, but it's much better than a lot of the indie books I've read. But man, it has the excitement, tension and grit of a fluffy, tutu wearing, 12-year-old ballerina. I found it almost impossible to stay invested in. If it had been longer I wouldn't have been able to finish it. The writing is just incredibly flat. I mean like no excitement anywhere.
Here's an example:
"Kade, you're pregnant."
"Damn. OK."
And I didn't even leave anything out. That's it. Man finds out he's accidentally pregnant and that's it. That's the response. Talk about a missed opportunity to build tension.
The whole book is like this. Found your fated mate? 'Ok, I'll get around to talking to him sometime next week, after I have some tacos and practice with the band a bit.' Daughter gets kidnapped? 'Oh well, might as well get on with life like normal the very next day.' Rescued your daughter? 'Oh, that's nice. Want some grilled cheese?' No buildup, no tension, no emotion. DULL!
And that sex scene! No foreplay at all. An anal passage that apparently self-lubricates somehow, a total shift in characters' personalities during sex and a climax as thrilling as that pregnancy announcement was all a major let down.
There was no world-building at all, nothing to explain shifters, shifter society, shifters' exposure or not, shifter biology (which in an Mpreg is kind of important), what makes an alpha and alpha and an omega an omega (despite inferring that these were somehow very different, with different expectations and abilities, and apparently they mate only alpha to omega and omega to alpha. What about all the other wolves? No idea.)
The characters were no more developed than the world. I have no idea what their ages were supposed to be, but they read like very juvenile young adults….that, you know, have really unexceptional sex. They had no history, no depth, no verve.
On a side note, this is very much the Omega's Surprise Baby, not the Alpha's. But whatever. All in all, this one is worth missing.