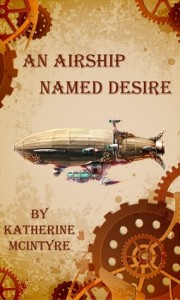 Quite some times ago, Katherine McIntyre sent me a copy of her novel An Airship Named Desire for review. I've also seen it on the Amazon free list.
Description from Goodreads:
Ever since their last botched smuggling job, First Mate Bea and the crew of her airship can barely afford fuel, let alone a barrel of grog. So, when a gentleman from Old Germany offers them a fortune to steal a locked box from a British merchant airship, they jump at the opportunity. Somehow, though, their employer forgot to mention the box's military escort, and the Morlock mercenaries who would kill to get their hands on it. Oh, and that if made public, the contents could engulf Europe in another devastating war. 
Stealing the box was the easy part. Now, with a target on their back, and some of the toughest characters in the sky after them, they have to find a way to survive. If the crew of the Desire don't polish their pistols and prepare for a hell of a fight, they'll end up worse than grounded. After all, everyone from the Brits to the Morlocks will kill for the contents of that box, and no one survives an airship crash.
 Review:
This was basically all right, but not overly satisfying. As action packed as it was it tended toward simplistic solutions to problems. For example, the time the crew managed to guess the three-digit combination to a box they knew nothing about (on the first try even). Hell, half the time I can't even figure out my own locker combination, let alone a combination set by an unknown person, for an unknown purpose. So, yeah, sometimes things worked out a little too easily, but it was also a fun romp.
However, all that action comes at a price. This book starts with it and it never abates. And while that's exciting it leaves no time to slow down and get to know the characters or the world. I really felt this lack of depth. I also thought it was a bit predictable and the open ending (not a cliffhanger per se, but not all questions answered) chaffed a bit.
All in all, if you're looking for some airship fluff that doesn't require much mental participation this will do the trick. It's a fun but shallow read.