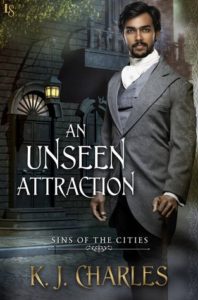 I received a copy of K. J. Charles' An Unseen Attraction from Netgalley.
Description from Goodreads:
Lodging-house keeper Clem Talleyfer prefers a quiet life. He's happy with his hobbies, his work—and especially with his lodger Rowley Green, who becomes a friend over their long fireside evenings together. If only neat, precise, irresistible Mr. Green were interested in more than friendship…
Rowley just wants to be left alone—at least until he meets Clem, with his odd, charming ways and his glorious eyes. Two quiet men, lodging in the same house, coming to an understanding… it could be perfect. Then the brutally murdered corpse of another lodger is dumped on their doorstep and their peaceful life is shattered.
Now Clem and Rowley find themselves caught up in a mystery, threatened on all sides by violent men, with a deadly London fog closing in on them. If they're to see their way through, the pair must learn to share their secrets—and their hearts.
Review:
I've not come across a K.J. Charles book that I haven't enjoyed. I just love her writing. An Unseen Attraction is no exception. I liked both the characters. I appreciated the diverse cast and non-standard romantic leads. The setting is rich and well described. The plot is engaging. This is a book well worth reading.
I think a reader will find it's not so much a mystery as a romantic suspense, maybe. The reader knows very early who the villain is. It's really not mysterious. The tension comes from Clem's refusal to accept it and what will happen when he doesn't.
Personally, I adored both characters and loved the pairing. I thought their chemistry in the bedroom was strong and it was fun to see a little kink without any big deal being made out of it. But they'd fallen in love before the opening of the book, so honestly I didn't feel a lot of chemistry outside of sex because we simply weren't given many opportunities to see it. Also, while I loved their open communication and consideration for one another, I'm afraid it read as just a little too ideal to be believed. I only wish people were so conscientious with one another.
I'll be looking forward to book two, which looks like it will be Nathaniel's and really looking forward to the third, which appears to be Mark's.