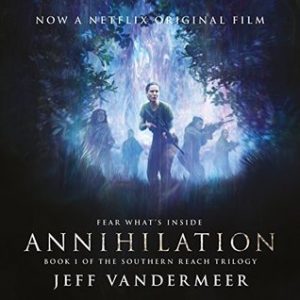 I borrowed an audio copy of Jeff VanderMeer's Annihilation through my local library.
Description from Goodreads:
Area X has been cut off from the rest of the continent for decades. Nature has reclaimed the last vestiges of human civilization. The first expedition returned with reports of a pristine, Edenic landscape; all the members of the second expedition committed suicide; the third expedition died in a hail of gunfire as its members turned on one another; the members of the eleventh expedition returned as shadows of their former selves, and within months of their return, all had died of aggressive cancer.
This is the twelfth expedition.
Their group is made up of four women: an anthropologist; a surveyor; a psychologist, the de facto leader; and our narrator, a biologist. Their mission is to map the terrain and collect specimens; to record all their observations, scientific and otherwise, of their surroundings and of one another; and, above all, to avoid being contaminated by Area X itself.
They arrive expecting the unexpected, and Area X delivers—they discover a massive topographic anomaly and life forms that surpass understanding—but it's the surprises that came across the border with them, and the secrets the expedition members are keeping from one another, that change everything.
Review:
I really wanted to see the movie of this when it came out, but never managed it. So, I figured I'd listen to the book. I had no real idea what to expect though, as the preview for the movie was all mysterious and that's all I had to go on.
I enjoyed it. I thought the main character was pleasantly self-aware and liked that the husband was the more emotionally attuned of the two. I wouldn't call it a romance by any stretch of the imagination, but I appreciated the little whisper of romance here and there. (That's how I choose to interpret it.) Don't go in looking for any firm answers though.
I struggled with McCormick's narration in the beginning. I felt it was far too fast (and slowing it down sounded funny). However, I either got used to it or she slowed down after the first couple chapters. After that, I thought she did a fine (if somewhat flat) job of it.