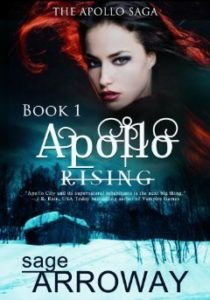 I've had a copy of Apollo Rising, by Sage Arroway, since Dec 2012. I'm pretty sure I picked it up when it was free.
Description from Goodreads:
Allison Graves just wanted a simple life – a decent job, a nice apartment, and the occasional refuge from Apollo City, a harbor city on the eastern seaboard whose secrets are as dark as its impending winter storm. Allie's weekend retreat to the Adirondacks should've have been relaxing. But when an accident on a treacherous mountain road results in caring for a strange man while snowed in at her grandmother's cabin, her life takes an unexpected turn.
Miles from civilization, Allie and her new guest, Tyler, must learn to trust one another as she tries to unravel the mystery of his past, and he makes a startling confession—he's a werewolf. Until now, Tyler had never met anyone who accepted him for what he was, and the undeniable attraction growing between them only makes dealing with his condition more challenging. Will his uncontrollable nature rip them apart before the storm passes, or will this new relationship lead them down a road that Allie has been resisting for years?
Apollo Rising is the first book in The Apollo Saga – a deeply suspenseful, contemporary story set in the fantasy world of Apollo City, filled with romance, real life and werewolves.
Review:
This took what could have been an interesting idea and wasted it with complete lack of development and rushed…well, everything else. The two characters meet and within a day or so are madly, irrevocably in love. And those romantic feelings come out of nowhere. There is no slow growth or development. They have sex and they are in love. Period. What's worse, one character uses sex to magically cure another. (Though I have to admit it's a bit of a twist on the trope to have a magic vagina instead of a magic penis.)
Annoyingly, the author seems to pretend a character not knowing something is the same thing as a character choosing not mentioning something. Because we're in both characters' heads and [spolier] if you are yourself a werewolf and you run into a naked man in the middle of a snowy forest on the night of a full moon it's going to occur to you that the man might be a werewolf and this does not occur to Allison. We are told what she thinks and that's not among her thoughts then or at any other point. You can't write 80% of the books AS IF she doesn't know something and then suddenly tell the reader she does and expect it to fly. That is not the same as adding a twist to a plot, it's falsifying your story and expecting the reader to just roll with it. Ummm, no.
The baddy is a cliche scorned woman with no depth or development what so ever. And the book basically ends where I would expect the real story to begin.
The writing and editing is fine, other than a few missing words. Maybe I'll give Arroway another shot, but this book was not a winner for me.