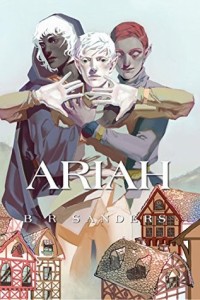 I borrowed a copy of Ariah (by B. R. Sanders) from my local library.
Description from Goodreads:
Ariah's magical training has been interrupted. Forced to rely on a mentor, Dirva, who is not who he claims to be, and a teacher who is foreign and powerful, Ariah is drawn into a culture wholly different from the elven one that raised him. 
As his friendship with Dirva's brother blossoms into a surprising romance, and he slowly learns how to control the dangerous magic in his blood, life finally appears to be coming together for Ariah—but love and security are cut short by a tyrannical military empire bent on expanding its borders. 
War, betrayal, passion, and confusion follow Ariah as his perilous journey leads him beyond the walls of the Empire, and into unfamiliar territory within himself. Along the way, he'll discover just how much he's willing to give up to find his place in the world, and he'll learn what it means to sacrifice himself for freedom—and for love. 
Review:
I was a little wary picking this book up. Several people I know have read and raved about it. I think I'm a little more critical of such books, for fear I'll get swept away with the fervor and just unthinkingly agree with the masses. But even being extra vigilant of my own feelings about the novel, I can say with certainty that I absolutely loved it.
It was not an immediate love. It took a while to settle in. The book is separated into sections in a way I find disruptive to reading. It presented characters I fell in love with and then it moved away from them. It was slow at times and I had trouble keeping track of all the ethnicities. But by the end, I genuinely, tearfully loved it.
Someone else claimed it is the queerest thing they ever read and I have to agree whole-heartedly. Not because it has male/male or female/female pairing. Not because it allowed for bi sexuality. Not because it includes gender fluidity. Not because it presented polyamory and platonic love, but because it allowed for all of it and more. Several types of identity, relationships and types of love are presented as functional, acceptable and un-exotic, along with the implicit understanding that there could be more besides; all without ever deteriorating into any kind of indictment of modern Western mores or feeling like it was just going down a laundry list of minority statuses.
The sense of inclusiveness in this book is palpable. This I think is one of the core threads of the book. It's about Ariah, the experiences of his life and how they contributed to his becoming the man he became. But in telling his tale he invites the reader to consider those same experiences and share in some of the changes they inspired in him. I was moved by it.
In the course of this book I laughed, I cried sadly, I was anxious and angry and I ended in happy tears. OMG, please tell me Sanders has written more books. I think I need them all.