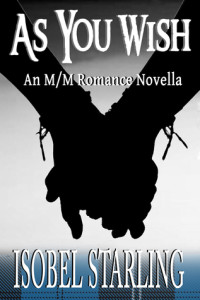 While Isobel Starling and I don't know each other personally, we are in the same online book group together. When she posted that she had a novella coming out for a 'Love is an Open Road' event, I offered to read it. She kindly sent me a copy of As You Wish for review.
Description from Goodreads:
1 wedding, 2 best men, one hell of a love story!
Declan Ramsay's brother Oliver was marrying Annabelle Aiken at a fairy tale Castle on the banks of Loch Ness in Scotland. The bride and groom decided, so that he didn't feel left out, Annabelle's gay younger brother Sam Should share the best man duties with Declan. 
Declan had never met the kid who was to be his joint best man.
Sam Aiken was abroad, working as an interpreter and finishing his studies. He wouldn't meet Declan until a few days before the wedding, so the best men communicated and planned their speech by email for more than a year.
But on meeting Sam Aiken, Declan is surprised to realise the kid isn't a kid at all, but a tall, blond and athletic young man. Declan is sure he's straight, so he's alarmed by the ferocious attraction he feels for Sam. And as the attraction is reciprocated, the events at Dunloch Castle change everything Declan has ever believed about himself.
But is Samuel Aiken all that he appears to be?
Review:
There is something about a man in a kilt. Hmmm, yes there is. Honestly, I think there is something about a man in just about any traditional costume. It seems to push the same buttons as a man in a well-tailored suit. Yum. So the very premise of this story ticked a couple boxes for me. And believe me, if kilts tickle your fancy, you need this book. There are some scenes…..
It also has two cute, likable leads. I enjoyed them and their irritation, embarrassment and eventual working out of differences.
The story kind of lost me at the end though. I understand that the ending opens the story up to further books. It would make a good series. But, for me, it was too sharp a left turn. It diverged too far from the story I had come to expect. But that's probably a personal quibble, I'm sure others will love it.
The writing was clear and concise. There was humor, warmth and a HEAish ending. Worth picking up a free copy here.