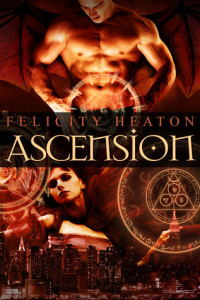 I downloaded a copy of Felicity Heaton's Ascension from the Amazon free list.
Description from Goodreads:
A witch on the verge of achieving phenomenal power, Lealandra must turn to her half-breed demon ex-lover Taig for protection from the dark force that is after her and also from her own magic.
With her Counter-Balance dead and her coven against her, Taig's blood and power is the only thing that can help her control her magic and survive the ascension and gain the strength to defeat her enemy.
Old feelings come flooding back as Taig allows her into his world and Lealandra finds herself fighting not only for survival but to win his broken heart again and heal the pain in their past. Can he forgive her for walking out on him all those years ago and will he ever believe her when she tells him that he's not a monster but the man that she loves? 
Review:
Eh, wish I'd left this one on the shelf. While the idea was an interesting one, the actual execution is a mess and frankly Lealandra was the kind of heroine I always want to slap and the gender relations are so outdated and disgusting I almost couldn't get past them.
Let me start with some examples of Lealandra's behavior. She returns to her ex when she needs his protection. She then kisses him, but gets pissed off when he basically says, "I'll only help you if you have sex with me" (which also makes him a big dick, even after Lea's internal monologue says he's only saying it to get back at her for leaving) but spends the whole book giving him very obvious mixed signals (because she really loves him and wants to have sex with him, despite refusing). She gets jealous of him speaking to another woman, so she throws herself into obvious danger and gets herself drugged and almost assaulted, requiring rescue. She get's angry at the bad guy and then charges in to fight him, so unprepared she literally didn't even put clothes on (yes, naked). Again, needs rescuing while thinking, "I wish I'd listened to Taig." She allows Taig to constantly talk about possessing her, owning her, releasing custody of her, taking care of her, protecting, etc. She lived with a man for six years who didn't "allow" her to do something she needed. Her impending ascension means that she isn't able to control her own body or sexuality. (God, that is such a common theme in romance books and it always pisses me off.) She's 32 bloody years old, but acts and is treated like a child.
Basically, Lea's character, which we're told is strong can, be summed up in this disgusting quote
Usually she was strong, but around him, she felt as though she didn't need to be. She could be the woman she was inside, without fear of him thinking that she was weak. He would protect her.
Because apparently she can't simultaneously be the woman inside and strong? Because obviously no true woman would want to be strong when there's a man available. Blerg.
And this is all highlighted by the fact that she basically doesn't do anything but cower and lust over Taig for the whole book. Even defeating the villain, who we're told is weaker than her (but male) requires this:
It was his power that allowed her to do this, that would see her end this fight and become the victor. It was his strength all along that had helped her, through both the ascension and also through what lay ahead. She would always need him and his power, his support and guidance, but most of all his love and devotion.
Blerg. Because god forbid she both have her own strength, power and skill and be a woman!
Then there is the actual writing. It could have been ok, a bit purple but readable, if it wasn't so damned repetitive. We are told the same things over and over and over again. Then those same things are contradicted over and over and over again. Just so we can be told or shown the opposite again. The internal monologues are endless and always focus on sex or the other person's body, usually when the character is in pain or running/fighting for their life. Sure, his sexy abs are just what I'm thinking about when trying not to die.
The plot is incredibly weak, mostly because there is sooooo much sex, talking about sex, fantasizing about sex, refusing to have sex or, well, sex (most of which was of the hammer and nail variety. He basically just gracelessly pounds her and apparently that's erotic and gets her off) that there is almost no room left for plot or character development. There is one side character, who gets mentioned repeatedly throughout the book, but isn't introduced or explained until 80% in. Similarly, there is no build up to the final fight. Suddenly, with almost no explanation, they have a team fighting with them and are in the middle of it.
Very poor. I have no desire to continue the series, thank you very much, even if the hints for book two started getting dropped at about page 10.