I received a copy of Atlantis Rising when I signed up for Alyssa Day's newsletter. Curious of Jack's (the hero in Dead Eye) origins, I gave it a read.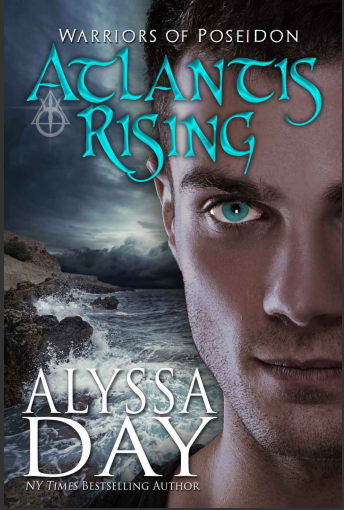 Description from Goodreads:
Eleven thousand years ago, before the seas swallowed the Atlanteans, Poseidon assigned a few chosen warriors to act as sentinels for humans in the new world. There was only one rule-desiring them was forbidden. But rules were made to be broken…

When she calls…
Riley Dawson is more than a dedicated Virginia Beach social worker. She's blessed with a mind link that only Atlanteans have been able to access for thousands of years. Being an "empath" may explain her wistful connection to the roiling waves of the ocean, the sanctuary it provides, and the sexual urges that seem to emanate from fathoms below…

He will come.
Conlan, the High Prince of Atlantis, has surfaced on a mission to retrieve Poseidon's stolen trident. Yet something else has possessed Conlan: the intimate emotions-and desires-of a human. Irresistibly drawn to the uncanny beauty, Conlan soon shares more than his mind. But in the midst of a battle to reclaim Poseidon's power, how long can a forbidden love last between two different souls from two different worlds?
Review:
This is the second Alyssa Day book I've read and they've both suffered in the same manner (this one far worse than the first, Dead Eye). Both had an interesting plot that was then shoved into the background in favor of endless repetitions of how awed the hero is by the heroine and her innate goodness. Had Day flipped this around I probably would have loved this book. As it was the whole vampires try to take over the world, Lost City of Atlantis rising to save humanity is a subplot to he's hot and tortured and she's kind enough to heal his heart. There isn't enough of the first to carry the book and the latter isn't strong enough to support all Day heaped onto it. By the end, I was desperately ready to be finished with the book.

Having said all of that, I did like the characters. I appreciated that, while Conlan was bossy, he wasn't an alpha-asshole about it. I liked that he communicated when he was struggling with control and I liked that Riley had some agency.

When I picked this book up, I didn't realize it was initially published in 2007. I'm always wary of any PNR that's more than a decade old. The industry codified a lot of tropes I despise. Despite that, though this wasn't a winner for me, I didn't hate it as much as I could have. And that's a plus, right?