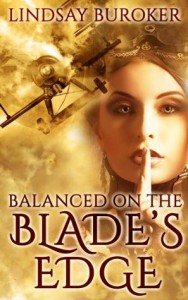 Balanced on the Blade's Edge, by Lindsay Buroker is a perma-freebie on Amazon, which is where I got it.
Description from Goodreads:
Colonel Ridge Zirkander isn't the model of military professionalism—he has a tendency to say exactly what's on his mind, and his record has enough demerits to wallpaper the hull of an airship—but as the best fighter pilot in the Iskandian army, he's used to a little leniency from his superiors. Until he punches the wrong diplomat in the nose and finds himself issued new orders: take command of a remote prison mine in the inhospitable Ice Blades Mountains. Ridge has never been in charge of anything larger than a flier squadron—what's he supposed to do with a frozen fortress full of murderers and rapists? Not to mention the strange woman who shows up right before he arrives… 
Sardelle Terushan wakes from three hundred years in a mage stasis shelter, only to realize that she is the last of the Referatu, the sorcerers who once helped protect Iskandia from conquerors. Their subterranean mountain community was blown up in a treacherous sneak attack by soldiers who feared their power. Everyone Sardelle ever knew is dead, and the sentient soulblade she has been bonded to since her youth is buried in the core of the mountain. Further, what remains of her home has been infested by bloodthirsty miners commanded by the descendants of the very soldiers who destroyed her people. 
Sardelle needs help to reach her soulblade—her only link to her past and her last friend in the world. Her only hope is to pretend she's one of the prisoners while trying to gain the commander's trust. But lying isn't her specialty, especially when the world has changed so much in the intervening centuries, and if Colonel Zirkander figures out who she truly is, he'll be duty-bound to sentence her to the only acceptable punishment for sorcerers: death.
Review:
Just a shorty review today, because I'm a Buroker fan and I pretty much knew I'd like this. I enjoyed it almost as much as The Emperor's Edge series. I liked the characters (especially the fact that they were in their 30s and 40s) and thought the world an interesting one. There was humor and a little bit of romance. Unfortunately, I didn't think it was quite as meticulously written as past books and there was a little too much he felt drawn to her but didn't know why sort of hand waving. It made the whole thing feel a bit rushed. But despite that I'd be happy to read more of series.