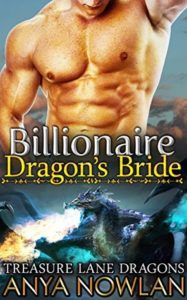 On a lark, I picked up a copy of Anya Nowlan's Billionaire Dragon's Bride at Amazon when it was free:
Description from Goodreads:
He's blazing hot and this dragon won't take no for an answer. 
Devon Bluewing is a billionaire playboy like no other. Cocky, strong and sexy as hell, he's used to getting anything and anyone he wants. But when it comes a time to step up and stand as the head of his family, and the dragon council of Treasure Lane, Devon is met with an inexplicable problem. He needs a mate or his whole legacy could be in jeopardy. Now, that doesn't work at all for the fire-breathing bad boy, who's used to getting his own way. 
Gemma Teeley can't stand injustice. She's sassy, smart as a whip and always ready to fight for what is right. So when the newest Bluewing heir decides to wrack up the taxes on her hometown, Gemma isn't about to stand for it. But what she doesn't know is that her fight against traditions might just get her into a whole lot of steamy trouble! The curvy, headstrong woman has all the fire of Devon, and when he gives her an ultimatum, they're both in for more than they bargained for. 
Even if she'll play along, it doesn't mean that she'll make it easy on him. But it isn't just Devon whose making decisions for Gemma, and soon it becomes very clear that it's not only Gemma's pride that's in danger of getting burned… 
Review:
There were dragons. I love dragons. They're my favorite mythical shifter. But they weren't enough to save this train wreck. Nope. For one (and most importantly for me) I went all over ragey at the just-force-her-and-she'll-like-it-in-the-end plotline. I hate that in a book. I hate it on the whole, but also in the smaller scenes where a female character is justifiably angry and the man grabs her and forces an unwanted kiss on her and she then just melts and forgets she's angry, because she wants him so bad. RAGE people, RAGE!
On the smaller scale the world isn't defined. The characters aren't developed and are both unpleasant. The plot is shallow, never even expanding far enough to allow minor things like family coming to the wedding, because that would require introducing new characters. The villain is evil just because he is. The file seems to have a lot of filler, as the story ends at 60%. It's repetitive and needs more editing. I'm fairly sure no one says, 'he cummed' to explain the culmination of a sex act.
I did appreciate the dragon's obsession with his hoard and how that played into what he perceived as courting and there was some humor.